The MWA Women's committee is dedicated to supporting women in motorcycling in all disciplines.
Through fundraising during the year at our events, the MWAW committee is able to put together small sponsorship packages to support Western Australian women in their endeavors to compete at a national level in their chosen discipline.
As the Australian Supermoto Women's Championship is being held in Western Australia in 2017, rather than provide support for travelling expenses which is the usual form of support, the committee have identified that funding/reimbursing the final practice session for eligible WA Women would be appropriate.
Applications are now being taken for sponsorship for the Australian Womens Supermoto Championship from eligible competitors.
Eligibility:
demonstrate valid entry to the event
not received any support from MWA W in 2017
attending the final practice session Thursday 16th November
willing to provide an article & picture of your experience in the event for publication by MWAW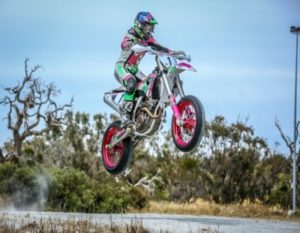 The MWAW committee would like to invite you to apply for our National Championship Support program as you have been identified as a nominated entrant and have not received any support from MWAW in 2017
Please complete the following page and return to mail@motorcyclingwa.org.au along with your article about the event for the committee to process your application. Please note that we have to have the article in order to process your application and reimbursement.
Please don't hesitate to contact the committee if you have any questions through the email address above. We look forward to receiving your application and would like to wish you all the best for the event. Ride safe and have fun!!
Tracy Simpson
CHAIRPERSON
MWA WOMEN'S COMMITTEE