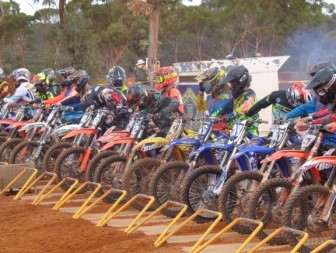 The buzz is starting to build again as everyone starts to think about the year ahead, the possibilities, the goals and of course the fun and friendships.
The Motorcycling Western Australia Women's committee are also looking forward to another big year and are already working on several projects for the season to bring everyone together and to continue to support the women and girls who love to ride their bikes or just be involved in the sport.
This year the MWA W committee welcomes on board some new members who are all excited to be involved and will no doubt be an asset to our team. MWA W would like to thank Marilyn O'Hare for all her work and dedication to the committee and the sport, and wish the family every success on their journey to Europe to support TJ's racing.
Annual Awards 2018
Once again, the Motorcycling Western Australia Women's committee were overwhelmed with the number and quality of the nominations for the annual awards recognising women in the sport, both as riders and behind the scenes as volunteers, officials and administrators. MWAW received over 20 outstanding nominations!!
This year MWAW were proud to award the Rider Award to Tahlia O'Hare for her outstanding achievements in the women's MX. TJ is about to embark on a life changing experience travelling to Europe to compete in the MXGP Women's class, can't wait to follow her journey!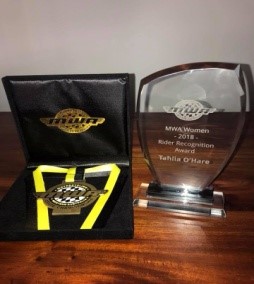 The most outstanding woman in the sport this year was awarded to Lynne Makin from the Trail & Enduro club. Lynne is an outstanding role model for everyone in the sport, always has a smile on her face and works tirelessly behind the scenes at the enduro events for both seniors and juniors and has done so for many years. Lynne has recently taken on a lead role in supporting the junior girls to get to know each other and be supported at the enduro events. Congratulations to both award winners.
Motorcycling WA Board vacancy
Motorcycling WA is currently advertising for Board vacancies for several positions.
MWA is a leader amongst Western Australian and National State Sporting organisations in ensuring gender equity in all areas and it is actively seeking female board members to fill the current vacancies. If you think this is something you would be interested in and would like to get involved in the management of the sport, to be able to give back to the sport then please don't hesitate to contact the CEO Joe McCarthy or President of MWA Tracy Simpson for further information. Applications close mid-February 2019.
Congratulations to Pyper Kent
Pyper has been selected to participate in the bLU cRU Oceania Rookies Cup and is one of only two girls selected for the event. Pyper has been busy training during the summer to prepare for the first event in February at the iconic Phillip Island circuit. We look forward to watching your progress amongst the ASBK series.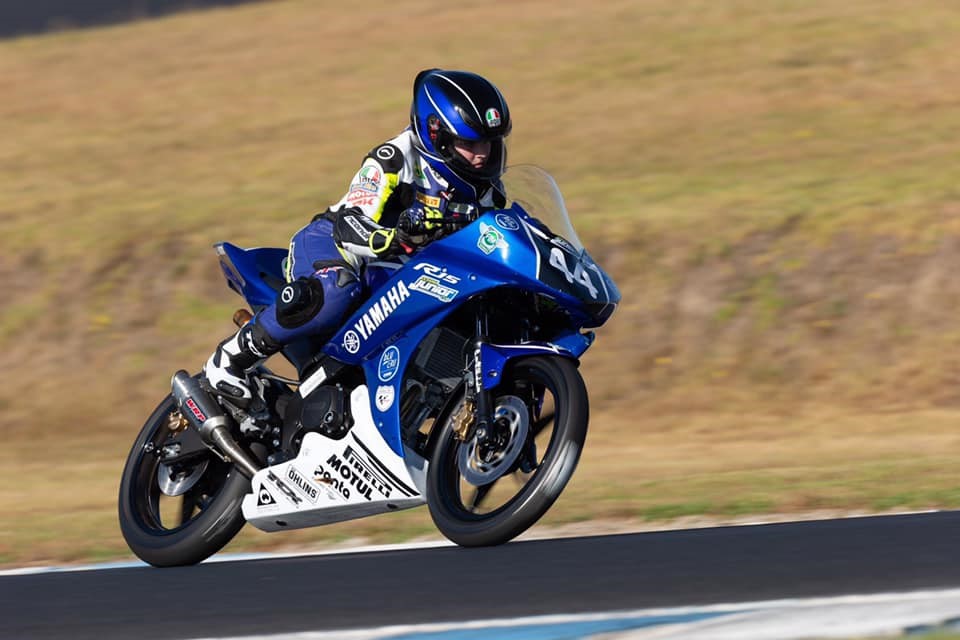 Spotlight on – Club President role for Tahlia Lang
It is so great to see one of the MWAW committee members take the next step and move into a leadership role in the sport. Tahlia Lang has been elected as President of one of our biggest MX clubs, Bunbury MCC.
Tahlia reflected on her journey in the sport and told us even though she had only been in the sport for a short time; she has been riding dirt bikes all her life. Tahlia said "I ride motocross because I thoroughly enjoy riding and find it therapeutic. Riding clears my head and give me a sense of freedom. I love being involved in the sport as it is like a second family, you meet lots of beautiful people and I love the racing atmosphere. I enjoy travelling around the State and riding different tracks."
Since becoming more involved in the sport, Tahlia has jumped in and put her hand up to help out, always being seen with a job at events and also spending some time learning the Clerk of Course role. On stepping up to the President role, Tahlia reported that she felt that it would be a good opportunity to show and encourage other women wanting to join the sport.
"I have been lucky that I have been surrounded by encouraging and supportive people throughout my time in the sport. The women in our sport are a very close group of people who look out for each other. Being involved in the MWA Women's Committee has been a huge motivation to me and all other women in the sport".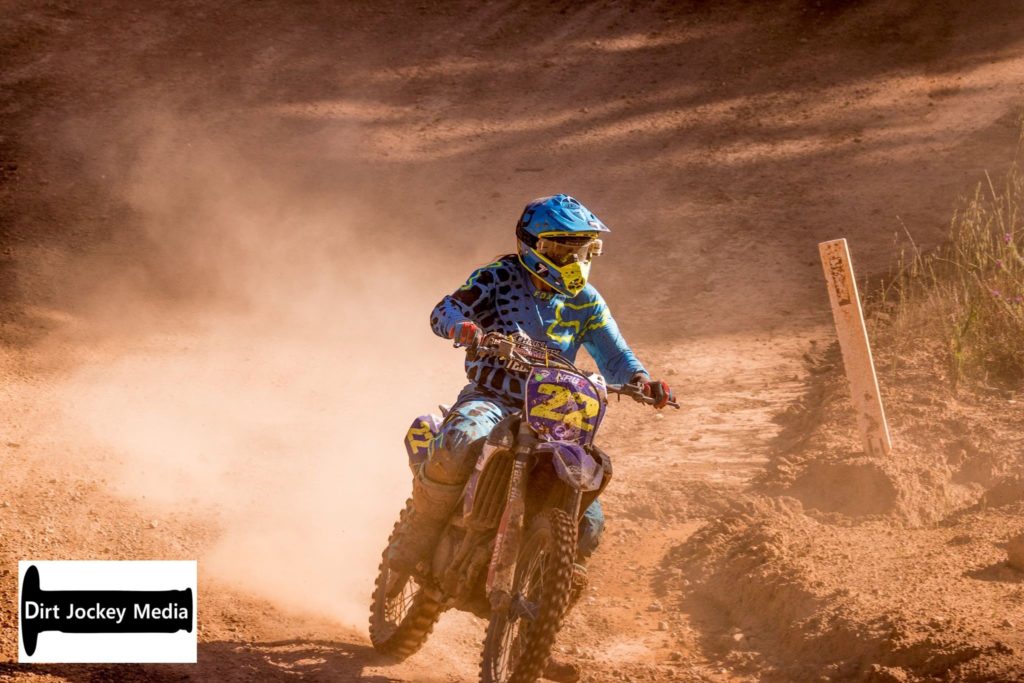 MWAW Plans
Save the date – Friday 8th March, early evening
Season opener – International Women's Day celebration for all women in motorcycling
MWA W are pleased to partner with long term supporter of women in the sport Cully's Yamaha to host a special evening bringing all the women involved for a social get together and information evening. We want to see all the women who ride bikes, who help out behind the scenes, social or competitive, senior or junior, come along to share some stories and their passion.
Door prizes, light refreshments and snacks supplied, details to follow shortly
Moto girls ride day first event – Saturday 30th March at Bunbury MCC
MWAW are currently negotiating with other clubs to host more events during the year
Update on the disciplines:
Motocross
2019 will see the Junior girls state championships as part of the junior state champ event for every round: 12 – u 16 at rounds 1,3,5 and 7-u12 at rounds 2,4,6. Let's get behind this and make it a great year for our junior girls!
2019 senior women's State Championship – present at all 6 rounds
Race event – currently negotiating with a club to host a women's and vets' event
Australian Women's MX Championships – expanded to a three-event series, round 1 & 2 at Murray Bridge 4/5 May, Round 3 at Manjimup 15000. Sponsors for the women to attend all events currently being sourced – let us know if you are interested in supporting the women to travel
Enduro
Calendar dates set for senior championships
Jemma Wilson – women's only coaching event 22/23 June ** SAVE THE DATE*** details to follow
Junior girls – Off Road Riding Club events have been scheduled in
As always, don't forget to get in touch MWAW and let them know your ideas, they would love to hear them. Catch up with the committee at the track and let them know what things are important, what we can do differently and, what is going great so they can share it.