Okay Pinjar, this is your last chance to dance! The final event of the season, The 2019 King of Pinjar and Prince of Pinjar. What a season it has been for the club and the sport in WA, and what a way to finish it off by having a full field of 16 solos including 2 interstate hot shots in the likes of Connor Bailey.
WA used to be a happy hunting ground for interstate riders chasing a Visa but the tables have turned and lately they have been getting a shock to the system as our local riders show them how it's done. Who will take the crown this year?
For the first time this year we have a stellar field of local sidecars battling it out for the sidecar KOP crown. And we are happy to be bringing back the Prince of Pinjar for our junior ranks
This will be one of the biggest events we have had all year and the track has been better and better each meeting. So look out for some fast and furious racing as we bring a close to this landmark season in WA Speedway.
Sidecar field boosted by former champions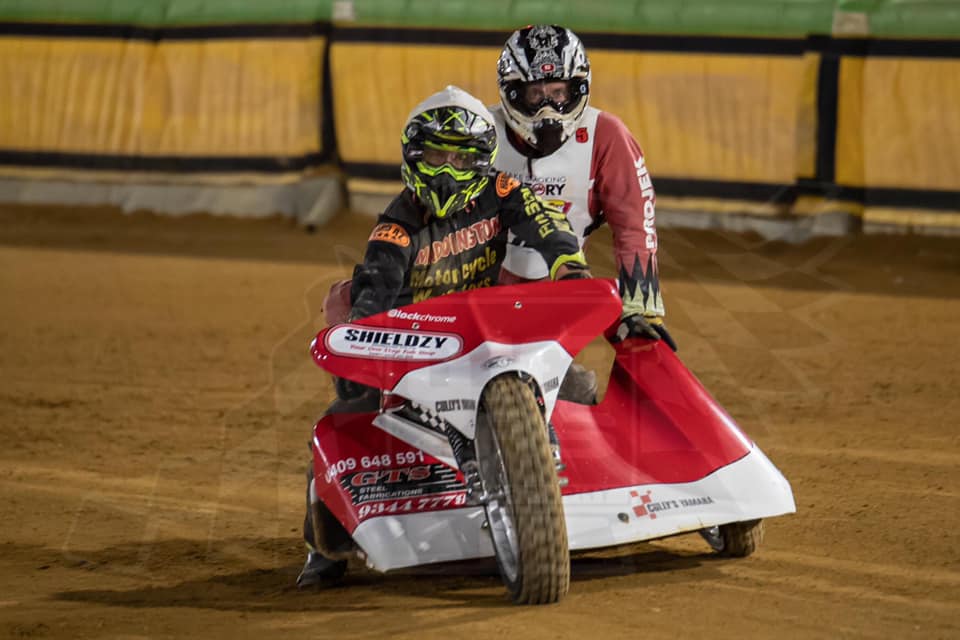 The 2019 King of Pinjar Sidecar crown just got a lot more interesting with confirmation that multiple Australian Champion, Glenn O'Brien, will be making his comeback this Saturday night. Glen will come up against a challenge in an old rival. Former WA Champion Darren Nash has also confirmed he will be eyeing off the trophy this year.
The old boys have got plenty of experience but they have their work cut out for them as the Reece Liptrott / Jesse Thomas combo has been almost unbeatable in the latter half of this season. Can these two sidecar greats stop the young blood in their prime? We will find out this Saturday Night as the tapes go up for the 2019 King of Pinjar
There will also be a full field of solos and juniors competing for their own crowns, there are trophies to be won for all divisions this year:
Sidecar King of Pinjar
Solo King of Pinjar
250 Sidecar Prince of Pinjar
250 Solo Prince of Pinjar
125 Solo Duke of Pinjar
125cc Solo Lites Junior Duke of Pinjar
Thumpsters Rockets of Pinjar
This is a massive field of events and a lot on the line for all divisions so come on down and see them truly battling for the crown.
King of Pinjar Solo division
Daniel Winchester – A big favourite with a great track record in KOP events
Matt Marson – Recent winner of the Summer Slam Series and looking like a real threat on a newly purchased Woffy bike.
Connor Bailey – Our only Interstate contender has been impressive since stepping up to the senior ranks. Should be one to watch at the pointy end
Kale Ballantyne – Barely ridden his bike in the last 12 months but immediately found his speed and top scored in last meetings heats
Blake Russell – Another one who hasn't ridden much lately but is always fast. Had a few bike troubles and a fall in the B-Final last time out but definitely has the speed to challenge at the top
Ethan Ballantyne – starting to find his form again on this new circuit after missing a lot of the season
Des Heys – Has been a fixture on the podium steps this season. He missed last meeting but will be itching to get out there and continue his good form this weekend
Ryan Pope – Has had a great season with just a bit of bad luck preventing him from big results. Was straight into the A Final last meeting so will be looking to do the same this weekend
Jason Bishop – was shaken up by a big crash in the state title (the air fence was his saviour) but has got back on the bike and has been picking up vital points
Jarryd Ziedas – Another season of bike troubles but when he gets it together he can win races.
Jason Marzoli – Has been improving in leaps and bounds. Picking up decent points through the meetings and has been right up there with the top guys
Drew Winchester – Has improved his starts and getting more competitive out the gate. Looking to keep the momentum going and challenge for a few points
Bryan Miller – Can't get enough of being on his bike. Improved massively on this new track and is starting to find the limit of fast/out of control. He will be hoping to hold on the throttle and sneak in amongst the fast guys
Brad Gordon – His first year in the senior ranks but looks smooth and very competitive right out the gate. A few engine failures have hindered his progress but has been putting together big races and getting big results
Brady Webb – A veteran of the sport but has been missing most of the season. Has a couple of new bikes and won't take him long to get amongst the points.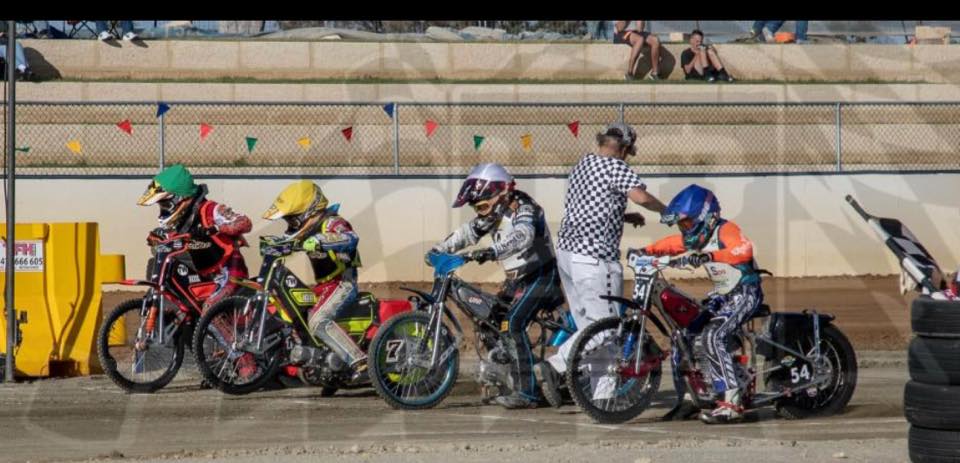 Fierce Battle looms for Duke of Pinjar crown
The 125cc lads have been going at it all season and have certainly put on some fantastic racing.
Luke Killeen would have to fancy his chances after bringing home the #A3 recently and having some really good results at Pinjar Park, a super talented rider who always turns it on.
Jack McDiarmid will certainly have other ideas and if momentum counts for anything Jack has really turned things up a notch recently with some really impressive rides and results another talented rider who no doubt will have a good go at the crown
Mitchell McDiarmid, although the youngest of the bunch, he certainly makes up for it with raw talent and gritty determination and has had some super impressive riding this year and would love to take the crown.
Xander Smith although his first full season with the big boys Xander has showed he has the potential to steal a good result a gutsy little rider with a great family backing him and I'm sure would love to take the crown.
Although a small field of riders these guys certainly put on some fantastic racing and with some of the 125cc lites riders looking to make the step up this division is definitely in good hands.
Additionally with the Australian Junior Solo Championship coming to Pinjar Park Next Year all of the 125cc riders will looking to finish the season on a high and take the good results through into next year's Aussie tittle campaign.
Junior Solo lites set for "Junior Duke of Pinjar" Crown
The Junior Solo lites have boosted healthy numbers of late with 8 Young guns set to battle it out for the crown.
It's anyone's guess as to who will take the crown as all of these future stars have what it takes to get the win.
Max Harvey the little pocket rocket will be keen to have a good result.
Jake Corbett has showed he has the goods and has had an impressive first season for the second generation racer.
Axle McCarthy continues his good form and will definitely be there at the end of the night.
Darcey Timmis our young lady racer will certainly be out to show the boys how it's done.
Trevar Dossett is another handy rider who will be looking to take the crown home.
Linkin Metcalf with only a handful of meetings under his belt has showed plenty of potential and is super keen to get the win.
Hunter Mason with only his second meeting has impressed and could take the spoils.
Colby Mason makes his debut in the lites division but from a very impressive practice session last week might be able to sneak the win.
That's the line-up folks be sure to get there early and catch this talented great bunch of kids as the go after the Junior Duke of Pinjar Crown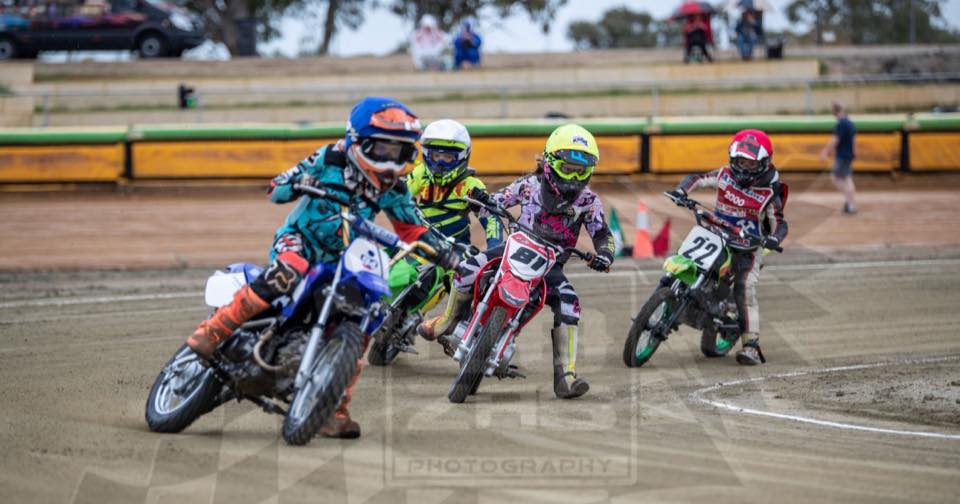 Rockets of Pinjar
The Junior Stock bike class will be racing for the Rocket of Pinjar crown this Saturday.
The racing will be action packed with this group of superstars,
Darcey Timmis, Axle McCarthy and Jake Corbett will all be on double duty with the lites class add into that Tyler Madgen, Chayne Roe and Dominick Colmore and you have some very talented riders.
Make sure you come along and cheer on all of these wonderful youngsters this Saturday at Pinjar Park Speedway
Event Information
Entry price is $20 for adults and kids under 16 are free. BYO chairs and picnic rugs. Food and coffee trucks at venue as well as a bar.
Schedule · Saturday, March 9, 20194:00 PM
4pm Spectator gates open – 5:00 PM Junior Program Commences – 7:00 PM Senior Program Commences. Entry Via Old Yanchep Road