Cranbrook's new motorcross track at Sukey Hill is an outstanding success
Here is a club who have aligned their committee to defy the odds of distance and small population, to pull off the opening of "Sukey Hill" national level motocross venue in Cranbrook.
This historic event being the opening of a scrutineer and first aid building and motocross track at the Sukey Hill venue took place on Sunday 15th July 2018. With club president Justin Shepherd and Great Southern Development Commission chair Ross Thornton officially cutting the ribbon.
The success, Shire of Cranbrook CEO Peter Northover said "is down to collaboration between the Shire and Cranbrook Districts Motorcycle Club. We are excited by the enthusiasm of the club members to build this motocross track to be a challenge to riders of all levels." Great Southern Development Commission under the Royalties for Regions Banner funded the $200,000 building infrastructure.
Justin Shepherd said "the club can't take all the credit, the local community have embraced this facility with Frankland River AA Contractors our major track construction team jumping on board along with Harvey Baxter Bulldozing from Cranbrook, Cranbrook Elders donating materials, and many of the committee bringing along their farming equipment to chip in to meet the building schedule. We are pretty privileged as a club, as many metro clubs have to shell out cash for track maintenance programs."
Motorcycling WA board chair Tracey Simpson attended the opening commenting that the clubs foresight in involving National Motocross coach Greg Moss into the planning and execution of jump placement to capitalise on the natural terrain of the site has made it a very enjoyable track for the riders. "It's open and flowing as its not restricted by space, with a few minor adjustments to the start gates and the score hut this venue can definitely host a state round next year and I along with Mark Gill are taking that recommendation back to Perth." Tracey said.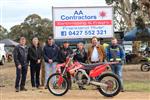 The opening coincided with the club hosing Round Three of the South West Interclub Series. Ninety Six riders participated from the five south west clubs Collie, Manjimup, Bunbury and Southern Capes. Many riders made the most of the event camping the night prior to racing. "It's a great series being one down from a State Round and a great way for our officials to gain experience in running this level of competition. We are pretty much the new kids on the block and are offering a different style track being that which you see in the eastern states." Club President Justin Shepherd said.
Local riding team from Denmark and Kendenup PBS Racing placed well on the day representing Manjimup Motorcycle Club, with Camball McMahon #20 1st place 85cc B/w, Kai McGinty #407 3rd place 85cc S/w and a 2nd place riding his 65cc, Paul Smithson 1st place vets, and Sam Baxter 2nd MX2 Lites.
Cranbrook riders placed well on the day with, Declan Hepworth from Albany 2nd in 250/150cc 2 stroke, Ryder Smith from Albany 3rd place MX1 open, Chris Anderson from Katanning 2nd place in Clubman with Jarrod Smith from Jerramungup 1st place, Dylan Robinson from Kojonup 2nd in Divi 2, And it was a clean sweep for clubman lites with Neil Preston from Cranbrook 3rd, Jacob Jones from Narrikup 2nd and Adam Plant from Tambellup 1st.
What the riders had to say: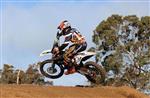 Austin Ridley: I really enjoy the Cranbrook Motocross track as it is very different from any other tracks in WA and has a lot of cool features and natural terrain which you don't see too much of. My favourite part would be the whole track but if i had to choose it would to be launching up the big hill. It was yet another year where Cranbrook didn't disappoint with the event and was cool having one of my major personal sponsors (Bunbury KTM Suzuki) sponsoring the event as well.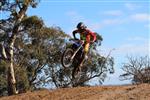 Michael Kennedy: The track was amazing, had a lot of different terrain from clay to loamy soil and I really liked the Hill sections and the long lap times which makes for good racing. The club should be proud of the circuit they have created, I look forward to coming back to race here again soon.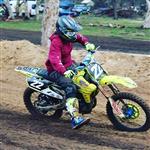 Tahlia Lang: It's an awesome track. I had a ball, they changed the track again from last year which made it all the better.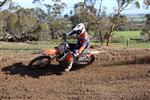 Jacob Daniels: The Cranbrook track has some uphill and downhill sections which are unique to WA tracks and I think it's great, has a few technical and high speed sections as well. Sand and clay soils make it great too.
Manjimup Club President, Paul Love said his two boys, Jai and Taj Love, spoke very highly of the upgrades made to the Sukey Hill track.
(Manjimup MCC members pictured- Texas Lintott, Jensen Muir, Jai Love, Kai McGinty, and Patrick Butler) -Thanks to Tina Willis for photos.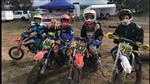 Click HERE to see more.
Kai McGinty : The track was rough but fun towards the end of the day. I'm really keen to ride here again.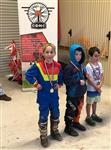 Jensen Muir: The track is sandy and at the start it is very grassy. My opinion on the starting gate it has an downhill slope so you keep on doing wheelies so you have to lean forward my favourite corner, I like this corner because you can come flying into it. The third jump is my favourite jump, it was where the 50's cut through the track I Like that jump because it has a massive lip.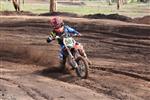 Jai Love: I enjoyed how fast and challenging it was with a mixture of sand and hard pack, the new jumps and berms made it an awesome track.
Facebook Feedback
Southern Capes Motorcycle Club -What a great day! Thanks for making it such a successful, fun and inviting event! Southern Capes crew look forward to next year 👍
Jacob Jones- Track was perfect 👌
Tina Joy Williss- Such a great day. You can't help but want to get involved with such a positive club! Everything is done with a smile and good energy it's an absolute credit to the crew at Cranbrook MCC
Kylie Chris Tomlinson- Awesome, so glad we came for a look! We will be back for sure. Congratulations to all involved you have put a lot of hard work in to create something pretty special.
Paul Love-Manjimup MCC- The club should be congratulated on a really great day track was awesome congratulations to all involved
Jeff Miotti -Well done to everyone behind the Cranbrook club
Vicki Barnsby -Thanks to all. It is great to know Ambos are at the track! Well done guys!!
Great Southern Development Commission-Congratulations to all involved in the planning and creation of this facility!
Mark Gill- We (MWA) were incredibly impressed with your track and effort from your club… Awesome effort
Sid Reid- Best track ever I had a great day thank you
Tracey Davis-Great track, we will be back. We joined up as members today
Kylie Chris Tomlinson Awesome, so glad we came for a look! We will be back for sure. Congratulations to all involved you have put a lot of hard work in to create something pretty special.
Tony Howell -Awesome track and a great day out, well put together by the club…well done!
Cranbrook's Sukey Hill Stats:
• Length 2117m
• Surface – mixture from deep sand near start line to clay at Harvey Hil Flag Point 5 (Clay 30% Sand 70%)
• Style – Very open and flowing traditional motocross style track capitalising on natural terrain, complemented with man made jumps.
To View More Highlights Cranbrook Facebook page HERE
To View More Photos from MOTOX Snaps click HERE
To View Facebook Video click HERE and HERE
To View Published Media articles click the links below:
RESULTS
DIV 2
3rd Place – 373 Reeve Howell (S/Capes)
2nd Place – 388 Dylan Robinson (Cran)
1st Place – 150 Jensen Muir (Manj)
65cc
3rd Place – 584 Jai Love (Manj)
2nd Place – 407 Kai McGinty (Manj)
1st Place – 218 Patrick Butler (Manj)
85cc Small Wheels
3rd Place – 407 Kai McGinty (Manj)
2nd Place – 218 Patrick Butler (Manj)
1st Place – 182 Cobey Brown (Bun)
85cc Big Wheels
3rd Place – 67 Jarred Boardman (S/Capes)
2nd Place – 254 Seam Arrowsmith (Bun)
1st Place – 20 Camball McMahon (Manj)
125cc 2 Stroke
3rd Place – 308 Jayden McFerran (Manj)
2nd Place – 68 Rhylee Benn (Coll)
1st Place – 695 Ross Harron (Coll)
250/150cc 2 Stroke
3rd Place – 242 Claton Horton (Manj)
2nd Place – 273 Declan Hepworth (Cran)
1st Place – 194 Eathan Blyth (Coll)
MX1 (Open)
3rd Place – 93 Ryder Smith (Cran)
2nd Place – 69 Luke Few (Bun)
1st Place – 43 Michael Kennedy (Bun)
MX2 (Lites)
3rd Place – 157 Austin Ridley (Bun)
2nd Place – 660 Sam Baxter (Manj)
1st Place – 620 Jacob Daniels (Coll)
Ladies
3rd Place – 566 Amy Smeathers (Manj)
2nd Place – 22 Tahlia Lang (Bun)
1st Place – 415 Charlie Blee (Manj)
Vets
3rd Place – 13 Matt Cartwright (Bun)
2nd Place – 164 Aaron Chircap (Bun)
1st Place – 128 Paul Smithson (Manj)
Clubman Lites
3rd Place – 686 Neil Preston (Cran)
2nd Place – 341 Jacob Jones (Cran)
1st Place – AAA Adam Plant (Cran)
Clubman open
3rd Place – 499 Ryan Gear (Bun)
2nd Place – 11 Chris Anderson (Cran)
1st Place – 246 Jarrod Smith (Cran)