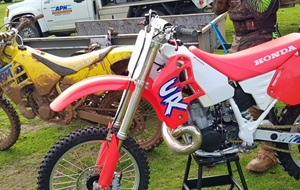 MUD Glorious MUD. I'll write about that brown stuff that sticks and then about the other half of the morning.
As I travelled to Darkan all the paddocks were wet and the creeks running moderately fast.
This rainfall could make for an interesting day and keep the numbers down at all events in south of WA. With modern day technology we have a heads up on the weather, this makes for last minute choices of – am I going to get my bike dirty, am I going to freeze my butt off or is that mate of mine going to ride in the mess.
Once you're dirty, who cares anyway? (Probably your partner when you walk in the door or looks in the shed)
Arriving at Hillman Park I wondered the date of affiliation and when I had last seen this much water on and off the track. The Pre85MXWA Club was formed in 2009 and yes, today marked the second time I've witnessed consistency of porridge. Not bad odds for 9 years. The porridge was only on the top though.
With much needed rain for the farmers of 17mls overnight, this was a track for the bigger bore bikes. The 125 2strokes didn't adjust well and found it too sticky.
The bigger fat four strokes loved it, ear to ear grins. (Photo proof)
It was also a day marked with the most pressure cleaners in the pits, even staying out in the lead couldn't get you away from the MUD Glorious MUD.
Having the riders in four groups made for a continual flow of races, before we knew it was lunch time and a flaggie change. (Thanks to those that brave the winter elements event after event).
Concern on spectator lane for the juniors was short lived, with the farm quad bike creating a new half grassed track with a left turn back towards the clubroom turn. Producing a long kidney shape and they were set for the day. Nice little intro track for the new ones.
Quotes of 15th July 2018 – Darkan
A new rider to Hillman Park commented, "It would definitely be a different track when dry".
Rider #2 "It's great, it's just like being in Victoria". I've always done motocross!!
Rider #3 Just not comfortable with the 125.Not settling in at all, too toey!!
Rider #4 I've done Vinduro, I like enduros and trail riding and cruising through the forest, but today I'm having a go at THIS!! Eeeekkk wonder if he comes back😊
Rider #5 "There is a HOLE in my new jersey…there is a hole in my NEW jersey!!!"(Riders shock horror look) Must have been from the brake lever when I landed on my ear.
Young Mother: I really like it, we will be back. It's so good.
Young woman: I'm freezing.
Young girl: Can I put my name on the raffle ticket Nanna. (Ends up taking home 1st prize)
On the raffle subject, there was never a purpose for today's raffle. A fund raiser that could go towards machinery fuel, oil, and plumbing parts etc. An endless pit of money needed to maintain any venue.
Congratulations to Haylee and Heath Mooney on taking home 1st and 2nd raffle prizes. A dirt bike quilt and Chocolates. Enjoy
Thank you for your support and to all those that help to run these events smoothly.
Word of wisdom 😉
Evolution – Motocross is part Evolution, whether we like it or not.
The sport changes every season with a handful of enthusiasts moving away from the fold with different interests and mixed commitments in their lives. With the change a new group of enthusiasts begins.
Today I met new enthusiasts; it was very refreshing to be a part of.
In writing the above, it is 16 months till the clubs 10th Anniversary.
Cheers Alison M
MXWA
Follow MXWA on Facebook HERE
More Images HERE