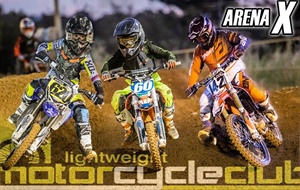 Saturday February 16th 2019
Are you suffering from bike withdrawals after the holiday season? Lightweight Motorcycle Club can help sort those withdrawals, with the club moving into Arenacross season very shortly.

Arenacross in the summer is like few other events, racing in the evening, with cooler temperatures, the sun slowly setting and then into the night under lights! With an atmosphere like no other, and with spectators being able to enjoy a cold one whilst watching the action on the track from the bar area up the top, it is not only the riders who relish Arenacross season!

To help riders out there getting ready for the 2019 season, Lightweight is pleased to be offering an Ax Go Moto on February 16th, to provide the racers amongst us with some much anticipated track time, as well as the newcomers with an opportunity to try out the arenacross track under relaxed conditions. It will of course also provide anyone suffering from bike withdrawals with relief! For the curious amongst us, the day is also an opportunity to have a sneaky little look at the club's new motocross track, which is now nearing completion after having had a complete rebuild.

The day will commence early, to beat the heat, with gates opening at 6am and there will be plenty of ride time for both junior and senior groups throughout the day. The canteen will be open with a limited menu, so if you need to quench your thirst, want a tasty snack or a light lunch, we will have you covered. There will also be committee members on hand to answer any possible membership queries, for anyone who might be contemplating joining the Lightweight ranks for 2019. Please join us for a fun day out!
Gates Open 6am
Sign On 6:15-7:30am
Riders Brief 7:45am
Riding between 8am and 1pm
Cost
$20 LWMCC Members
$40 Non Members
$30 One Day Event Licenses available for those without a current MWA license
Please be prepared to supply a flaggie!