Shrubland Park circuit home of the Bunbury Motorcycle Club-Senior Round Wrap Up
It was a wild, wet weekend for Round 4 of The Make Smoking History State Senior Motocross Championships at the Shrubland Park circuit home of the Bunbury Motorcycle Club.
This round was also our PINK round in support of Breast Cancer and a lot of riders joined in with pink graphics, pink tyres, pink ribbons, pink riding gear and pink bikes – thank you as it was awesome to see such support. Thank you to the 14Teen Industries Team who sold pink ribbon stickers and also thank you to Munster Motor Trimmers Race Team who also sold pink ribbon stickers and raffle tickets for huge prizes.
The day dawned on a wet, wet track and with the Brutum Logistics Quad Championship Class first to take to the circuit – there was water and mud spraying everywhere from the get go. With the wind howling all day long and only a few showers throughout the day, it was hard to tell who was who. Thank goodness for our Timing Team and our Commentators who kept the crowd up to date.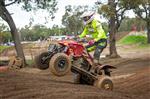 Luke Gaisford suffered a DNF in Heat 1 due to a snapping chain during an epic battle but came back for a win in Heat 3. Quite a few other quads suffered during the gruelling day. In the end, Chris Bosnakis took the round win from Jakob Bosustow from Michael Murphy in 3rd place. Our Series Leader, Chris Bosnakis now has a 102 point lead from Luke Gaisford with Joel Mortimer snapping at his heels 6 points behind in 3rd for the Series.
The Shrubland Circuit will have plenty of thrills as this track is fast, tight & twisty but can also, if wet, be really deep and push these motocross machines & riders to their limits.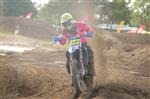 Our ladies in the Cullys Yamaha Women's Championship lined up to tackle the thick wet sand and Tahlia O'Hare showed them how it was done. There was an exciting battle going on behind between Hannah Bagnall, Kara Cats and Megan Bagnall all day long – swapping minor placings constantly. With Chelsea Blakers out due to an injury – the day finished with Tahlia taking the win from Hannah and Kara in 3rd. The Series now stands with Tahlia O'Hare still leading the Championship by 45 points from Kara Cats and Lily Kent 24 points behind in 3rd.
Our Make Smoking History Veterans and Masters returned for this round to play in the sand and Southwest local James Craig led from start to finish whilst Trevor Unstead and Stuart McKerran swapped it out all day long in the Masters Series. James Craig won overall from Stuart in 2nd place and Trevor for 3rd place. James still leads the Series 47 points in front of Trevor Unstead and Marc Payne in 3rd another 18 points behind.
Scott Petricevich had a standout day taking the win from Martin Costa and Paul Smithson in The Veterans Championship.
These guys may be Veterans and Masters but they certainly put on a show all day long. Scott still leads the Championship 38 points ahead of Martin and Paul Smithson in 3rd place another 34 points behind.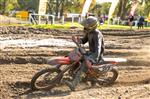 In the penultimate of the Amateur Cup Mini Series, local boy Max Christie took on the series leaders and won the day. There was action aplenty in every race with the deep wet sand taking it's toll. In the end Max took the day's win from Series leader Jaxson Turner and Joel Petley. This mini series has its grand finale at the next round and at the moment, Jaxson is still leading 54 points ahead of Cheyne Speak and another 55 points back to Matthew McMellon.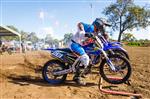 The action was fast and furious in the Planet Honda MX1 Championship with David Birch having to work hard to get his wins throughout the day. Josh Adams, Stevie Heilers, Paul Humbertson taking the holeshots in the races, David had to pull out some magic and push his machine hard. The top 10 riders took on the circuit and made it work for them and it showed.
David Birch took the win from Stevie Heilers and Josh Adams very happy to take the 3rd step of the podium. Going into round 5 David Birch leads the Championship 66 points from Charlie Creech and snapping at his heels only 16 points further back is Stevie Heilers.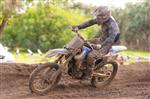 BeeFirm NRG sponsored rider Mat Fabry had some very hard battles all day long with both his brother Jayden and young Mitchell Outram. Every time these guys came down the straight, the leading rider had changed. It kept everyone guessing who would take the win. Mat took the win from Mitchell and Jayden joined them on the podium in 3rd place. The standings for the Motul/Pirelli MX2 Championships are now Mat Fabry on 410 points, Mitchell Outram 340 points and Billy Middleton 329 points.
So…. Lock in these dates – August 18th and 19th – when our Series heads to the Wanneroo Junior Motocross Club for 2 days of action with our Junior Series on the Saturday and our Seniors on Sunday and do not miss out on one second of the thrilling Championship Series and watch our boys & girls fly!!!
Thank you to our hosts for the weekend, the Bunbury Motorcycle Club, their dedicated committee and volunteers.
Pictures Courtesy of True Spirit Photography.
Story – WAMX (Inc) Committee.
For full results head to www.wamx.com.au
LR-I apologise if Gordon's awesome photos are not in the correct order, its pretty hard to tell who's who with all that mud! Congrats and well done to all the riders, families, officials, volunteers, flaggies, support crews, spectators and anyone else who persevered the weekend's mud fest.
A special mention and thank you from MWA and our members to all the media and photographers who have captured, once again, the most amazing moments and memories for us all to treasure, your dedication to the sport we love is truly inspirational and very much appreciated.
Some of the best and most hilarious moments captured over the years have been the unsuspecting images you take of each other…and I saw a couple from the weekend-great to see a sense of humor was maintained in the mud!
It truly is an honor to work with you all each week and we really do appreciate your dedication, hard, yet at times thankless, work. This goes for all disciplines not just motocross.
Linda Russell