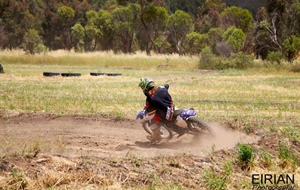 Are you not confident turning? Particularly on gravel? Do you want to learnt to move the back wheel a little? Are you not very confident and want to build confidence and control turning on all surfaces? Mind on Matter Coaching have exactly what you need with their upcoming full day clinic of Turning/Sliding coaching for all kinds of track surfaces.
Mind on Matter Coaching will cover;
Balance and control skills
Explain the Physics about how it works.
Work a series of Exercises to build up skill and confidence
Develop your stability in corners and get you riding logically
Work to skidding and sliding and maintaining balance and control
Focus is on control of the bike and the day will be ridden at very low speed doing exercises that will develop each skill. The MoM coach will take everything step by step and slowly build confidence and understanding of how it all works.
Turning is such a massive part of any trail/enduro ride and building confidence can help you stay logical, save energy, reduce your lap times and help you have alot more fun!!
This will all be done at low speed and in a very controlled manner so we can build you up safely!
Neil Price is the Coach for the day. Arguably the most passionate trials rider in Australia. He has been twice Australian No1, and 13 times WA State Champion. He has experience at World, European, Italian and Spanish Championships as a rider and minder/mechanic. Neil is a very technically minded person who loves the application of physics and has spend a lot of time analysing the how and why to incredible detail. Now he has developed these coaching and training programs to explain to you, prove to you and then teach you to apply the principles and techniques.
Riders only need to have a very basic standard of riding and Mind on Matter will adjust the exercises to suit each rider in the group.
Riders must be fit enough to be able to pick the bike up a few times throughout the day.
Full Day Turning and Slide Coaching-23rd December 2018