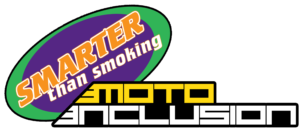 The Moto Inclusion program is designed to introduce motorcycle riding to children with special needs. Our team of MWA coaches and volunteers host a number of events for organisations and families that allow children to encounter this amazing experience.

Supported by Five Star Yamaha and Healthway the program is supplied with quads and bikes, enriching the lives of children with special needs it forms a sporting and social environment for those that simply want to learn something new. Supplying everything from bikes, helmets, gloves and goggles we have everything available to provide a safe and secure location for children with disabilities to learn to ride.

Riders progress through basic training on controls and riding, later on progressing to a basic motocross inspired course and develop the skills that every motorbike rider needs.