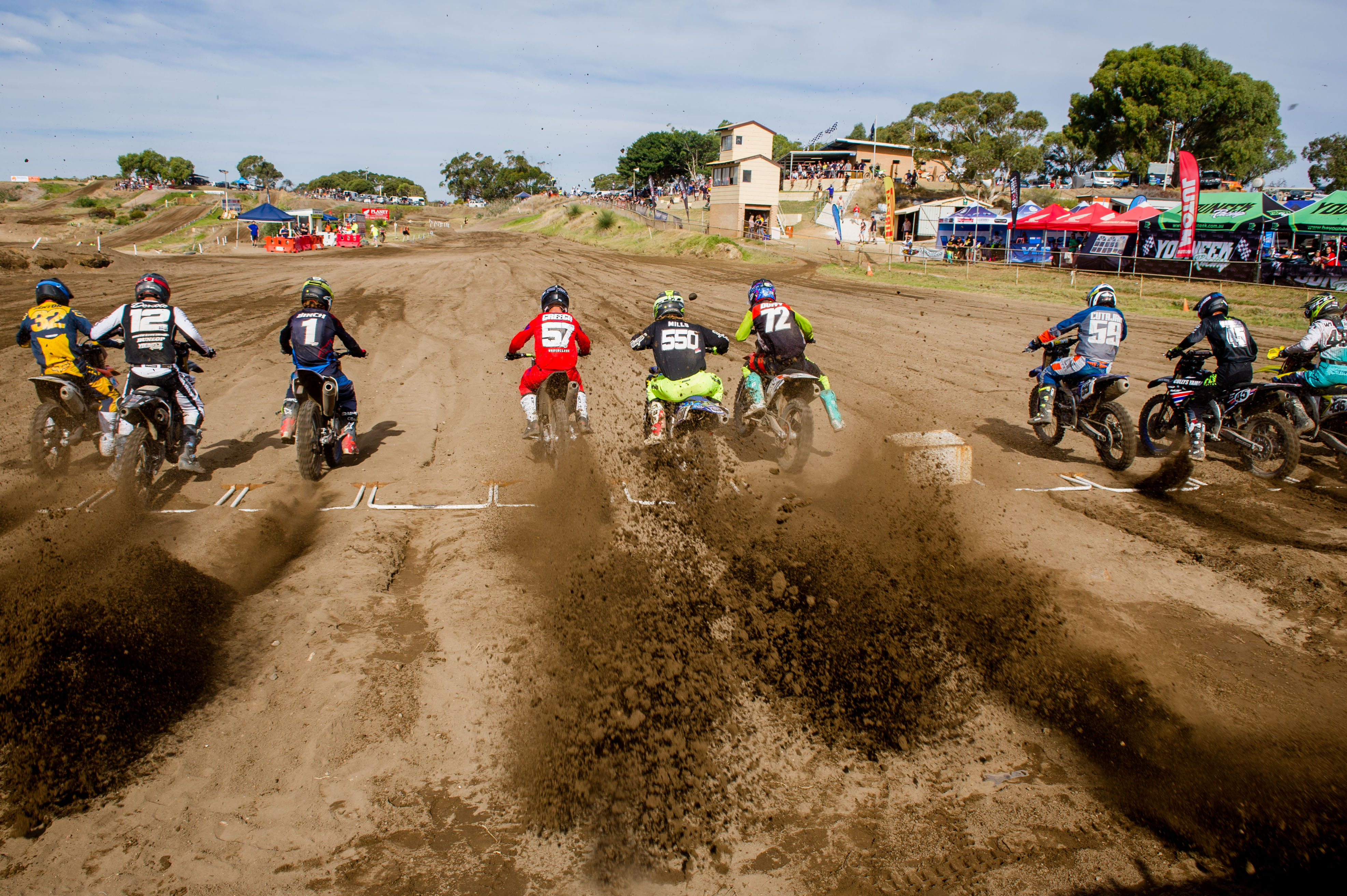 The 2019 WAMX Make Smoking History State Senior Motocross Championship kicked off at Coastal MCC for Round 1 on Sunday the 28th with a bang. With nearly full gates in the converted MX 1 and MX 2 classes and well supported numbers for the Quads, Women, Veterans, Masters, and the Amateur Cup, the day was spectacular.
The warm autumn day certainly put the riders to the test and a different sprint format added to the action factor with competitors pushing hard. Lots of thrills and spills to entertain the many spectators who made their way up to Coastal Park to take in the competitive racing for the day.
In the Brutum Logistics Quad class Chris Bosnakis continued to dominate with a perfect run for the day but with Luke Gaisford and Jakob Bosustow very closely snapping at his heels just waiting for Chris to make a mistake.
1st # 1 Chris Bosnakis
2nd #14 Luke Gaisford
3rd #20 Jakob Bosustow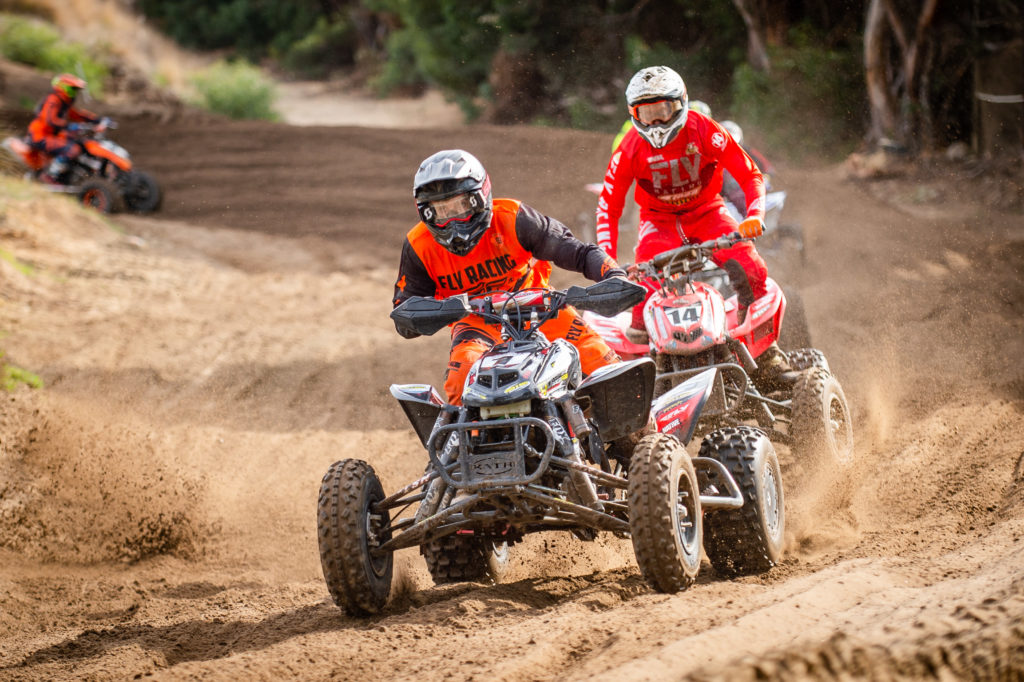 The Amateur Cup class also failed to disappoint with Jacob Whately who is new to the senior class. After coming fourth in the first race, found Jacob found his legs in race two and three and held off Jaxon Haley and Cam Vanstan to take the overall day.
1st #396 Jacob Whately
2nd #327 Jaxon Hawily
3rd #505 Cam Vanstan
Our 35-49 Years Beautiful Kitchen Designs Veterans also had a strong field with Ben Hothersall, Ben Shingler and Aaron Chircop swapping positions constantly with Ben Shingler pulling a three point lead overall to take the day.
1st #129 Ben Shingler
2nd #919 Ben Hothersall
3rd #164 Aaron Chircop
The Diamond Design Masters aged 50 + also mixed it up with the Veterans and had their own battle. Trevor Unstead held them off for three solid wins for the day with only six points between 2nd and 4th which made for some great on track battles.
1st #142 Trevor Unstead
2nd #576 Marc Payne
3rd #375 Brett Graham
In the Cully's Yamaha Womens Class, Hannah Bagnall performed strong all day and with Kara Cats scoring no points for the first race was right on Hannah's back wheel for race two and three. However it wasn't enough to push Megan Bagnall and Storme Green from the podium at the end of the day.
1st #623 Hannah Bagnall
2nd # 4 Megan Bagnall
3rd #401 Storme Green
Dean Porter threw his hat in the ring of the Motul/Pirelli MX2 riders and battled it out with Regan Duffy, who was faultless. Corben Weinert and Dylan Hennessy also putting in some great results and making them count.
1st #72 Regan Duffy
2nd #42 Corben Weinert
3rd #4 Dylan Hennessy
The NR Metal Recycling MX1 certainly put on a show with the top ten riders constantly swapping back and forth in position and watching all ready to pounce if the slightest mistake was made by any of the other riders. Regan Duffy was just too strong and held Charlie Creech and Josh Adams at bay.
1st #72 Regan Duffy
2nd #57 Charlie Creech
3rd # 5 Josh Adams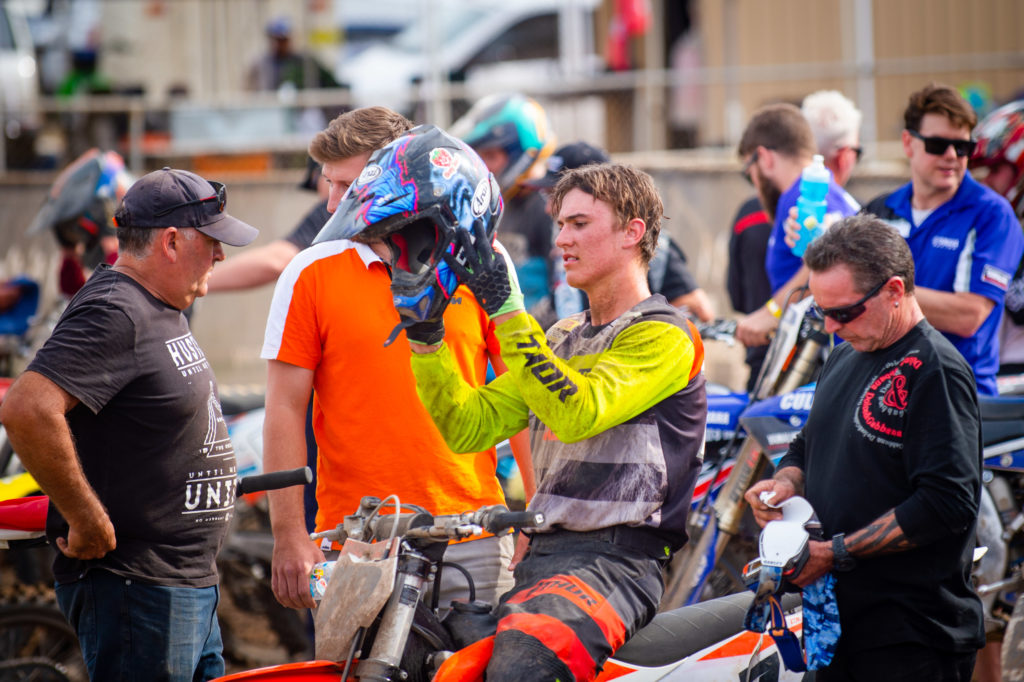 In a little under three weeks Round 2 @ Lightweight MCC on the 19th May shifts to hardpack with a new track design and will be certain to test the skills of the riders. Get yourselves there to see all the action live.
Photos: True Spirit Photography