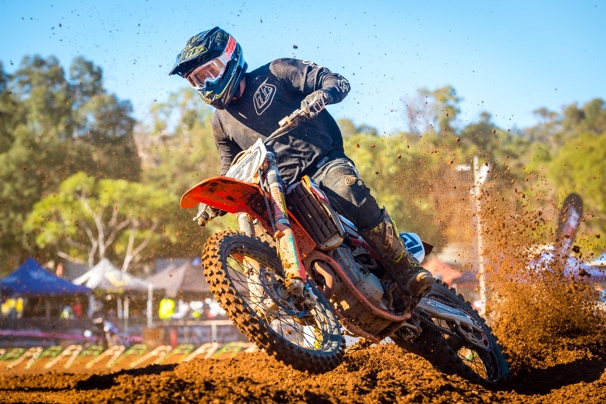 As the Easter long weekend calms down, another storm is yet to approach. The WAMX Make Smoking History first double header of the State Junior and Senior Motocross Championship season has arrived. In full force for 2019, a new council brings fresh innovation and a new wave of excitement for this year's series of mx.
On the 27th and the 28th of April, Coastal Motorcycle Club at Coastal Park, Henderson Park will host round one of the Junior and Senior State Motocross Championship. Celebrating their centenary, Coastal Motorcycle Club has made some changes to make this year's first double header the best it has ever been. Not only is the celebration of one hundred years a milestone for the club, but for those taking part in the state round will be an opportunity, an opportunity to ride at a club that is celebrating one hundred years and hosting the first double header within that centenary.
As Juniors are getting ready with fresh gear and also joy of the idea of racing against friends again; Seniors are prepping themselves to make their mark in the top ranks of motocross some more nervously than others as they step up to Senior ranks for the first time; Parents are gearing up for the amount of washing and mechanical work that lies ahead but secretly love it because of the smiles it puts on the children's faces; Officials, clubs and volunteers organise endless paperwork and also themselves for the hard work that has to be put in to make this event a huge success.
For 2019 we see Healthway Make Smoking History WA as WAMX's naming sponsor for the championship series. The Senior Class sponsors for 2019 are NR Metal Recycling for MX1, Motul and Pirelli for MX2, Brutum Logistics for the Quad Class, Cully's Yamaha for the Women's and Beautiful Kitchen Designs and Diamond Designs for the Masters and Vets Class. The Juniors for 2019 are getting the recognition their championship deserves with, EXP Resources for 100cc-125cc 13-U16 Years and Boxline Industries for the 128cc-150cc/200cc-250cc 13-U16 Years coming on board to sponsor these classes. WAMX sends thanks to all those who have kindly sponsored for this year of mx and wishes well for a great season ahead.
With Coastal Park expected to be action packed for the coming weekend of motocross, riders bringing the heat to the track and hopefully not too many trips to the first aid room… It's time to gear up and get up as this weekend of mx is waiting to both be seen and heard. Fire up your bikes and roar into action for the first WAMX Make Smoking History double header of 2019.
Racing starts at 9am. Canteen and Bar facilities are available so why not come and watch the bar banging race action.
Saturday 27th April – Entry is Free.
Sunday 28th April – Adults $20 and Kids Under 16 are Free.
Follow WAMX on facebook https://www.facebook.com/wamxinc/