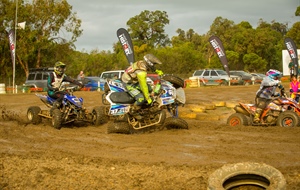 The WAMX Make Smoking History Junior State Round 4 saw our junior riders battle it out not only with the other riders but with Mother Nature. This round was hosted by the Bunbury Motorcycle Club and after some huge downpours overnight the track was wet, slippery and extremely challenging, but this didn't stop there being some awesome racing by the states junior riders. T
This round has over recent years been the PINK round in support of Breast Cancer Awareness and the junior riders came out in support with pink gear, pink grips and some pink hair were all seen in the pits.
It was tough going in the 50cc Demo Class being so close to the puddles those little bikes were pushed to the limit in the wet but Charlie Butler, Hudson Conduit, Brax Mannion, Ryder Bolland, Jayce Stocker, Jaxon Stocker, Sonny Fiford, Jesse Errey, Braxton Thomson, Sol Pellicano, Jai Bathern and Cooper Clayden all rode like champions.
The wet track didn't seem to worry Kayden Minear who again this round, took out all three moto wins in the 85cc 9-U12 years ahead of Deacon Paice and Seth Shackleton with local rider Cobey Brown in the top four. At this stage of the series Minear holds the Red Plate and has extended his lead to 48 points in front of Paice with Shackleton a further 10 points behind.
With a new bike and a fresh attitude Mason Brown was back in form in 50cc Auto 7-U9 years to take straight moto wins in this round, Patrick Day and Ryley Fiford were tied on points but on countback it was Day in second and Fiford in third. Brown still holds the Red Plate for the series with a 56 point lead over Deegan Fort and now has Patrick Day in third only 2 points behind Fort.
Over the course of the day more water fell and track conditions didn't get any easier even for the riders in the 100-125cc 13-U16 years Class but his Pink Tutu in support of Breast Cancer Awareness it was Corben Weinert holding the lead during each moto taking out all three wins for top spot on the podium ahead of Cody Richards and Rhys Burnett. Burnett has managed to hold on to the Red Plate and holds a now 22 point lead over Manuel and Sam Stephen with Cody Richards only 5 points away from a podium in the championship.
Kayden Minear dominated in the trying conditions in the 65cc 10-U12 years taking all three race wins. Patrick Butler, Jake Rumens and Kai McGinty all vying for podium positions, Butler and Rumens would prevail securing second and third respectively. Kayden Minear is the series leader with a 56 point lead over Deacon Paice, with Patrick Butler 14 points behind in third.
The younger class 65cc 7-10 years saw Seth Shackleton continue his remarkable form with straight wins in all three moto's. A return to racing after injury saw Sonny Pellicano hit the track and back on the podium in second place with Indy Radcliffe rounding out the top three. Shackleton retains the red plate for this round and has increased his lead in the series with 78 separating him and Indy Radcliffe with Connor Wiese now in third.
With the noticeable absence of Liam Atkinson from this round in the 85/150cc 12-U16 Years Class, there was still some great racing in tough conditions from Brock Flynn, Jake Turner, Dylan Walsh and Camball McMahon. It would however be Flynn taking first place over Walsh, with McMahon in third place after countback from Turner. Brock Flynn now holds the Red Plate 35 points ahead of Jake Turner with Dylan Walsh moving into the third position for the series.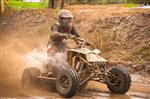 The sand track was always going prove difficult for the Quads 90cc Competition 8-U12 years but with the added water on the track there was some traction issues for these machines and it was definitely hard work for these riders Keenan Murphy managed to take the top spot on the podium Murphy for the round day. Murphy still holds the Red Plate in the series.
The Quad Up to 250cc Competition 12-U16 Years again even in the mud Jae Dowsett was out leading the pack and rode away with wins in all three moto's, however it would be Brooke Hall taking second position on the podium with Flynn Burton settling for third step on the dais. This round has caused some movement in the series minor placings however Dowsett leads by 46 points over Burton and Hall moves into third in the championship with McQuade a further 25 points behind.
Regan Duffy and Corben Weinert were back for round 4 but Cody Chittick was out with injury in the 128cc-150cc/200cc-250cc 13-U16 Years and again the spectators were treated to the usual spectacular racing action between Duffy, Weinert, Seth Manuel, Conan Forrester and Rhys Burnett. It was Duffy that would take first place on the podium with Weinert only 1 point behind in second and Manuel in third. A top five finish for Rhys Burnett ensured he holds the Red Plate for the series with Conan Forrester now only 11 points behind and Seth Manuel moving in to third.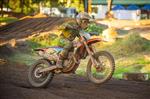 The penultimate round of the series will be at the Wanneroo Junior Motocross Club, on Saturday the 18th August 2018. Entries are open until the 4th August 2018 after this date late fees apply so get your entries in so you don't miss out on seeing how the series unfolds. Head to www.wamx.com.au and follow the links.
Pictures Courtesy of True Spirit Photography.
Story – WAMX (Inc) Committee.
For full results head to www.wamx.com.au
LR-I apologise if Gordon's awesome photos are not in the correct order, its pretty hard to tell who's who with all that mud! Congrats and well done to all the riders, families, officials, volunteers, flaggies, support crews, spectators and anyone else who persevered the weekend's mud fest.
A special mention and thank you from MWA and our members to all the media and photographers who have captured, once again, the most amazing moments and memories for us all to treasure, your dedication to the sport we love is truly inspirational and very much appreciated.
Some of the best and most hilarious moments captured over the years have been the unsuspecting images you take of each other…and I saw a couple from the weekend-great to see a sense of humor was maintained in the mud!
It truly is an honor to work with you all each week and we really do appreciate your dedication, hard, yet at times thankless, work. This goes for all disciplines not just motocross.
Linda Russell