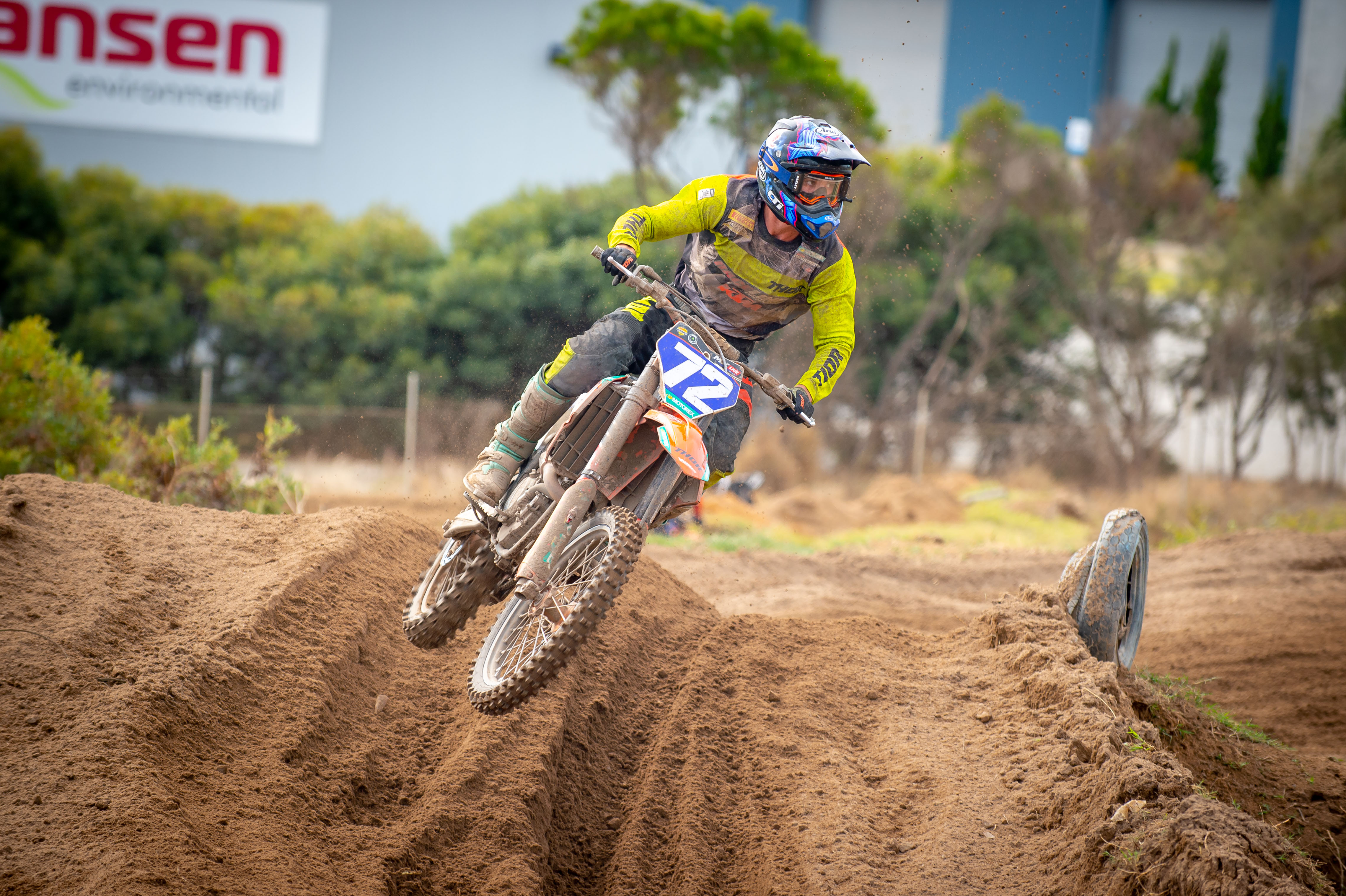 One week to go until the second state round for senior motocross. The next WAMX Make Smoking History State Senior Motocross Round will be held at the new and improved Lightweight Motorcycle Club in Henley Park, Byford. After a few events being held at the track, it is safe to say that the Sunday 19th of May is good to go!
A hard pack track that is sure to test out riders; with Coastal providing a soft surface a couple of weeks back who knows if there might be some new faces standing on the podium at the end of the day. New twists, turns, jumps and a whole new track overall, Byford is looking to make its mark as one of Western Australia's premier tracks to race on. Coastal was the first round of the senior state motocross series, which saw some new face on the gates and old riders coming back to make their name's known.
Champion rider Regan Duffy took out the NR Metal Recycling MX1 class and the Motul/Pirelli MX2 class, will he be able to do it again? For the Beautiful Kitchen Designs and Diamond Printing Masters class, will Trevor Unstead secure another first place and Ben Shingler for the Beautiful Kitchen Designs and Diamond Printing Veterans class? Can Jacob Whately come out on top for the Amateur Cup? Will Chris Bosnakis dominate the Brutum Logistics Quad class? Will Hannah Bagnall stay strong and keep her number one position in the Cully's Yamaha Women's class? All in due time…
A sure to be action-packed day for all riders, officials, volunteers, families and spectators; whether it is the morning catch up of friends over a quick coffee before the rush of scrutineering, the itch to sign on and secure your spot on the gate, the nervous feeling in the pit of your stomach before the drop of the gate, the excitement rushing through your body before a jump or when you have just overtaken someone, the smile on the parents face as they watch their kids doing a sport they enjoy or the satisfaction of finishing all of your moto's (even if you fell off once or twice), there is always something to love about racing in a state series for motocross. So why not enjoy the atmosphere and come to the second round for the WAMX Make Smoking History Senior State Motocross Series.
A full canteen and bar facilities on the day and plenty of riders to watch with racing to start after 9am. Adults $20 entry with kids under 16 FREE when accompanied by a paying adult. Entries are still open until the 15th of May (midnight), so why not enter now and race in a fantastic state event and be a part of Motocross in Western Australia. Don't forget to keep up to date with everything for WAMX either through the website, Facebook and Instagram.
Follow WAMX on Facebook: https://www.facebook.com/wamxinc/
For more information about state rounds head to www.wamx.com.au