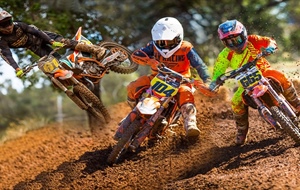 Our WA boys are super excited, especially as the Worlds are in the Land of Oz this year, read what they had to say!
Motorcycling Western Australia are extremely proud to have three of their members selected for the 2018 Australian Team, Regan Duffy, Kayden Minear and Seth Shackleton.
The Australian Team will compete in the 2018 FIM World Junior Motocross Championship (WJMX) that will be racing at the renowned Horsham Motorcycle Club VIC on the 26th of August 2018.
Motorcycling Western Australia's new CEO, Joe McCarthy, who recently saw the boys compete at the Manjimup 15000 said he is impressed with the selection of three competitors from WA and the opportunity that this will give them to further their racing opportunities on the East Coast.
Joe also said "Congratulations to Regan, Kayden and Seth. Making the National Australian Junior Motocross Team is an amazing achievement and I'm sure there will be many more along your careers! Best of luck, I know you will do your best and make Australia and WA proud!"
WA's Regan Duffy will be representing Australia in the 125cc class for 2018. The talented rider said after the announcement "I'm really excited to see what I can do against the best in the world!"
"I think my main competition will be riders such as Rene Hofer and Aiden Tijero, I'm really looking forward to battling with them guys!! Massive thanks to my Dad for getting me to this point and I'd like to thank Darrin Gaske from Mandurah City KTM for the years of support and my other sponsors KTM Australia, Motorex Oils, Kustom MX, Wearlusty, Troy lee Designs Australia and Dunlop Australia.
Regan's father, Darren Duffy, who was also a talented junior and senior motocross rider, said "I'm really thrilled for Regan and the opportunity for him to be up against the best of the best, he just loves to race so will be good to see how he does at that level of competition".
"Regan has put in the hard yards over the years, especially lately with spending more time Racing and training on the east coast away from home. It has been hard for both of us so I'm stoked that his efforts and hard work are paying off".
"Also thanks to all our friends and sponsors who have supported us over the years-especially Gaske (Darrin), we couldn't have got this far without all your help".
Today was Regan's birthday and Darren commented "Well done little mate-I'm really proud of you, what an awesome birthday present"!
The other two WA competitors are Kayden Minear and Seth Shackleton, who will once again, both be representing Australia in the 65cc class.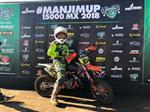 Kayden said he is extremely proud to be chosen to represent his country for the second time. He's also looking forward to racing the "Worlds" (WJMX) in front of friends and family who will have the opportunity to come and watch this time.
Kaydo said "My favourite memories from last year was getting to fly to Europe to train and race motocross and then making the podium against the fastest kids in the world was a highlight. It's an experience I'll never forget".
"This year there is a great team of riders from Australia but I think the American riders will be a big challenge too".
Kayden would like to thank his sponsors for all of their help & support once again, he is very grateful to Mandurah City KTM, KTM Australia, ETS Race Fuel, WillMax, AussieMotoEngineering, McLeod's Accessories, Fly Racing, Motorex and also to Jay Tippet for all the time he puts into coaching him.
Kayden's mother, Skye Minear said "Dylan and I couldn't be prouder of what this kid has achieved time and time again. He works extremely hard on and off the track. Like any parent we are proud of him and look forward to watching the FIM World Titles in Victoria".
Seth Shackleton told MWA, "I am so excited to be selected to represent Australia. I set my sights on this after winning the two Aussie titles last year. With so many awesome riders putting their hand up for selection it's a huge honour and I am stoked to be able do it alongside Regan and Kayden. I can't wait to get my shot at racing the best riders in the world".
"Also a huge thanks to my sponsors Mandurah City KTM, Troy Lee Designs Aus., Choice Suspension, BO Motor Oil, MX INK, Road and Race, Beaton's Pro Formula and my coach, ATC- Jay Tippet"
Brad Shackleton commented on social media after the official announcement was made "We are super excited that Seth has been selected to represent Australia at the FIM World Junior MX Titles in Horsham and we can't wait until the gates drop!"
"Larelle and I are over the moon and so proud of how hard Seth has worked for this opportunity". Thanks to these awesome supporters for their ongoing support @mandurahcityyamahaktm @troyleedesignsau @choicesuspension @cjcmotorsport @mxinkracing @roadandracemc @beatonsproformula @jaytippet"
Motorcycling WA would also like to thank Jack Foley for providing the awesome collage of the WA Boys and for taking time out this Sunday to capture Team WA in action at the WJMC clubrun. Thank you Jack, we really appreciate all your efforts.To view Jack's previous work or contact Jack go to https://www.facebook.com/JF-Photography-960751380670316/

Australia will have 21 riders flying the flag at the biggest Junior Motocross event to hit our shores. The 21 riders will be split between the following three classes, seven have been selected in each;
WJMX Classes
FIM Junior 65cc Motocross World Cup: Age Restrictions-minimum 10 years of age and maximum 12 years of age.
FIM Junior 85cc Motocross World Championship: Age Restrictions-minimum 12 years of age and maximum 14 years of age.
FIM Junior 125cc Motocross World Championship: Age Restrictions- minimum 13 years of age and maximum 17 years of age.
Representing the 125cc class for Australia will be;
Liam Andrews
Regan Duffy
Blake Fox
Dante Hyam
Jack Kukas
Bailey Malkiewicz
Korey McMahon
Representing the 85cc class for Australia will be;
Ryan Alexanderson
Jett Burgess-Stevens
Jackson Camilleri
Ryder Kingsford
Deegan Mancinelli
Zac Watson
Brad West
Representing the 65cc class for Australia will be;
Jet Alsop
Seth Burchell
Jack Deveson
Kayden Minear
Braden Plath
Seth Shackleton
Thomas Wood
Australian riders may still have the chance to secure a wildcard entry. If there are less than 40 entries received from other federations, there will be opportunities for wildcards for Australian riders at the WJMX. This will be revealed at the closing of entries in the coming weeks.
MA has received a considerable amount of rider applications for the 2018 Australian Team competing in the WJMX. The opportunity to represent Australia on home turf no doubt being a contributing factor to the interest. Australia has enjoyed a conservable amount of success in the past, Notable standouts include Jett Lawrence taking out the 65cc class in 2014 and Jay Wilson in the 85cc – 150cc class in 2009.
Being able to host the WJMX is an amazing privilege and is without a shadow of a doubt the world's most prestigious Junior Motocross event. It's going to be an incredible sight to witness, delivering a show for spectators and competitors alike.
We will be keeping an eye out for the progress WJMX riders and teams as they battle it out against the world's best in class. MA is very enthusiastic about the prospects for this year's championship competitors on home soil.
Any queries in regard to team selection should be forwarded to Team Manager, Mark Willingham with the details below.