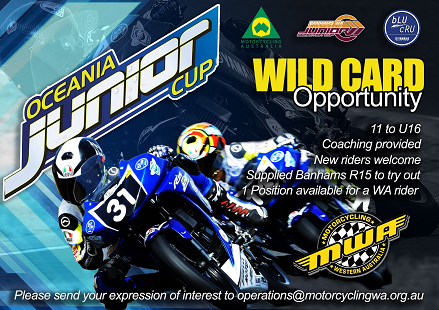 Motorcycling Western Australia in conjunction with Banhams WA are pleased to announce Motorcycling Australia are offering a wildcard opportunity for 1 WA rider to take part the Phillip Island Round of the OJC, set to be held 4-6 October.
Once Motorcycling WA receive expressions of interest, a date and location for the try out will be announced.
This try out is not only for the wild card opportunity but also a chance for young riders from any discipline to try one of BanhamsWA Yamaha R15's and a possible seat on board a Yamaha for the 2020 BanhamsWA Junior State Championship.
Bikes and riding gear can be provided for new riders to the road race discipline.
Candidates will be coached and assessed by MWA accredited coaches and most importantly, the coaches will make sure the riders have a blast on the road race bikes.
The selection criteria for the Oceania Cup Wildcard are:
*Aged between 11 and under 16 as of January 1st, 2019
*Have competed at National level (in any discipline) or be endorsed by a coach/SCB if they have not
*Hold an MA Junior National Competition Licence
*Registered their interest for the 2020 OJC selection event via ASBK.com.au
*Be 160cc Road Race endorsed, which can be completed at the event.
The successful applicants will be chosen based on their attitude, ability to listen and learn and overall performance.
This is a rare opportunity and not to be missed.
For more information and to register your interest, please contact MWA at operations@motorcyclingwa.org.au
There has never been a better time to get into Road Racing.
Expressions of interest close 21/06/2019