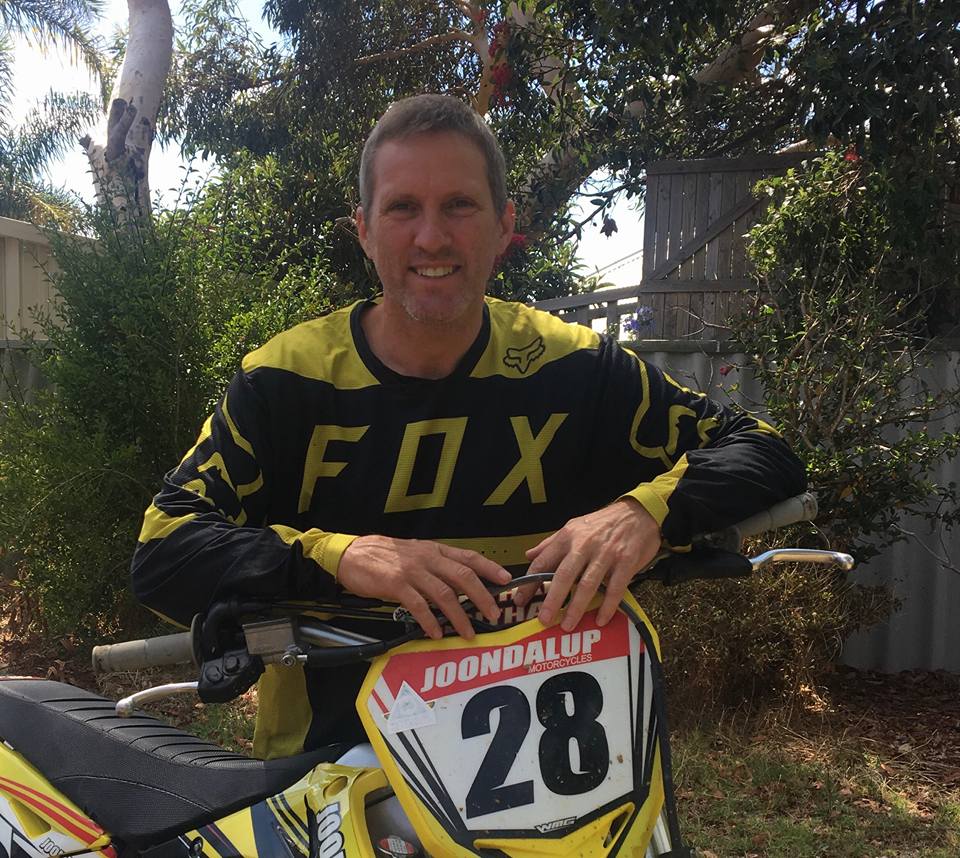 Former speedway star Greg Bartlett has swept all before him after two of the three round WA Dirt Track Championship being run at both Pinjar Park and Perth Motorplex Speedway.
That's not to say he has had it all his own way with another former speedway rider, Tim Boujos keeping him very honest in every race.
Dirt Trackers are gaining in popularity all over Australia and the USA and have developed a cult following among speedway fans.
The bikes they use in Dirt Track events are essentially Motor X bikes and are incredibly difficult to ride around a speedway track. Compared to purpose built lightweight speedway sliders that have a low centre of gravity with laydown engines and no rear suspension or gearbox, Motor X bikes are quite tall with upright engines, they are much heavier, run a gearbox and have incredible travel on their suspension.
While they must use speedway rear tires in place of the knobbly ones normally used for Motor X events, when they pick up grip through the turns, it tends to load up and compress the rear suspension, and as we know what goes down must come up and when it does the riders are propelled upward out of the saddle making it extremely difficult to hang on let alone keep the throttle wound on.
Current or former Speedway riders appear to do well on Dirt Track bikes. There is no better example of this with Greg Bartlett who has done his fair share of laps around a speedway track in his time.
Husband and wife duo, Tim and Jessica Boujos are also former speedway riders and very accomplished supermoto and road race competitors.
Current speedway star, Matt Marson does well on a Dirt Tracker bike as does Jason Bishop.
The exception to the rule might be the Chain Reaction sponsored Robbie Clark who runs at the pointy end of the ensuing pack in most races he competes in.
A major departure from speedway solo racing, where there are just four competitors on track at any one time, is that Dirt Track events attract up to 20 odd riders in each race.
The starts out of the gate are therefore critical if you don't want to be bogged down in the pack.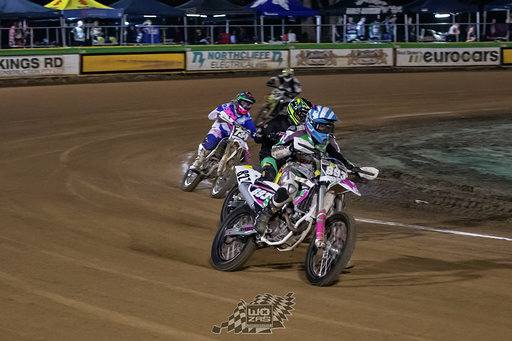 Greg Bartlett is a master of the starter and seems to get the best jump out from the tapes and give himself clear air into turn one.
There is one more round to go in the current three round championship and while Greg Bartlett is out in front on points to date, don't write off Tim Boujos just yet. Anything can happen in these events and normally does.
Keep an eye out for their next and final round at the Perth Motorplex Speedway in April.
Words; Graeme Sinden
Pictures; Woza's Photography / Gordon Pettigrew