Motorcycling Western Australia would like to congratulate the 2019 Award recipients.
Our newest Hall of Fame Inductee is Mr Eric Nicoll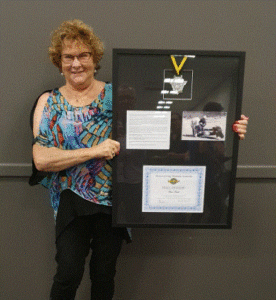 Eric Nicoll was born in Moonee Ponds on 13 June 1923 and crossed the dirt track Nullarbor to Perth in a model A Ford with his family in the early 1930's. Eric went to Thomas Street School in Subiaco and met his wife Vena at a dance at the Narrogin army camp. After spending much of the war in Borneo he returned to Western Australia, got married and moved to Subiaco before moving to a war service home in Nollamara in 1958. Eric built his own motorcycles, often in his children's bedroom and kept copious notes and drawings of his ideas, builds and racing records. He would often be found at the local tip scouting for parts and materials as he hated to see anything go to waste.
From the 1950's Eric raced in speedway and road racing, with a short stint at scrambles, winning the 100 Pound Prize at the Claremont – Champion of Champions in that year. He later moved exclusively to sidecar road racing and won 18 WA Titles and 2 Australian titles with 34 first place sashes at major events and 9 other podium finishes. His passengers included – Neil Pickerskill, Warrick Lang, Terry Bick, Ian James and Colin Cahill.
While Eric kept himself fit for racing one of his greatest fears as he got older was that he may lose his race licence due to his age. Sadly, Eric Passed away on 6 March 1988 while competing in a road race event in Donnybrook. His racing record and devotion to the sport makes him a fitting member of the Western Australian Motorcycle Hall of Fame.
2019 Sportsman Award – Max Vlasich
Max had an outstanding year and was crowned the 2019 Enduro 2 State Champion, Max has performed consistently for several years and it is great to see Max rewarded for his efforts.
2019 Patron's Trophy – Regan Duffy
Regan continues to perform at an elite level in his chosen field with some key achievements in 2019 including winning the MXD National Championship and been crowned the MX1 State Champion. In a further show of what an outstanding year he has had, Regan was selected to be part of Team Australia in the Motocross of Nations which was held in the Netherlands participating in the opens and placing 10th in the overall result.
2019 Official of the Year- Paul Donohoe

Paul has been a long serving official within our sport as Clerk of Course and Steward, this year Paul officiated as Clerk of Course for entire Motocross Series as well as officiating as Steward at MWA open events. Paul will always put his hand up to officiate and to help out the organization wherever he can, Paul's professionalism and dedication to our sport has been on show for many years. MWA thank him for his years of service to our sport.
2019 Coach of the Year- Josh Adams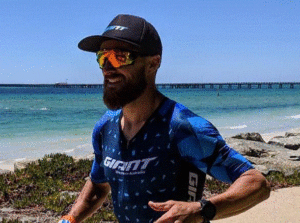 In 2019 Josh was selected as one of two state motocross coaches for MWA's Junior State Program. Josh attended the Junior Motocross Nationals and offered support and guidance to all riders attending not limiting himself to coaching juniors at an elite level. Josh also attended many events throughout 2019 wearing his coaching hat helping to encourage and develop junior rider's to better their skills. It is a testament to his professionalism and dedication that Josh has built quite a following as a motocross coach.
2019 Volunteer of the Year- Dan Robinson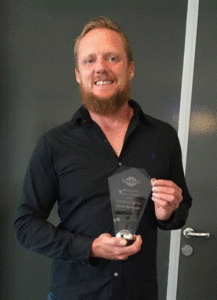 Dan is a tireless volunteer for the Coastal Motorcycle club. He is the current Vice President of Coastal Motorcycle Club and Clerk of Course for their club events. Dan has worked closely with the Cockburn Council and Police Youth Community to develop a program which focuses on getting at-risk youth involved in the club and assisting them to get through tough times. Dan is also a club coach, point of contact and administrator and he works diligently assisting with sponsors and grants.
MWA Women's Committee 2019 Riders Recognition Award – Phoebe Bronwin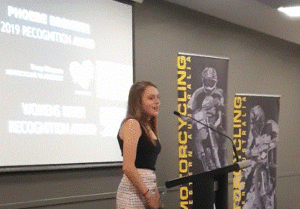 Phoebe is recognised as an exceptional rider who puts 110% in two disciplines. This year Phoebe secured podium finish in 1st place in the Offroad State Championship and 2nd place in MX Girls 85-125cc 2T & 150-250cc 4T 12-U16yrs. Phoebe is not only a fierce competitor in her chosen disciplines but is a great ambassador and role model for women in the sport.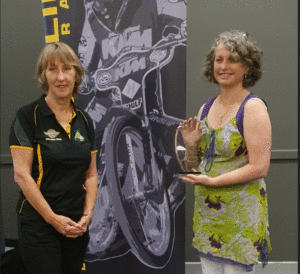 Women's Committee 2019 Outstanding Women Involved in the Sport- Debbie Scoble
Debbie has been involved in the sport for many years working tirelessly to promote and grow the sport. Debbie is the Race Secretary for the Speedway Club of WA but her work does not stop there as she is the 'go to' person for anything. Debbie wears many hats from managing Ridernet registrations, club memberships, coordinating race programs, looking after corporate sponsor on race night and assisting with social media. Debbie is an invaluable member of the Speedway Club of WA and the community.
!
2019 Most Improved Club – Northam Districts
The 2019 MWA most improved club awards goes to the Northam Districts Motorcycle club. NDMC had a year of growth in 2019. With a state round in 2020 the club has seen significant improvements to its facility. Gomoto and Ride Park days proved to be successful for Northam in 2019 and with the tireless work of there committee we look forward to seeing them transition to a competition delivering club in 2020. Well done to all involved at this great club!
Club of the Year – Western Australian Junior Motocross Club
The 2019 MWA club of the year goes to the Western Australian Junior Motocross club or affectionately known as Chidlow. WA JuniorMC have had an outstanding 2019. They ran a very successful junior state round with great numbers. We are seeing numbers increase across the board in junior participation and it is clubs such WA Junior MC that are doing the hard work to achieve this. They have a great committee full of hard working volunteers and on behalf of MWA we would like to thank you all for everything you do for the sport .