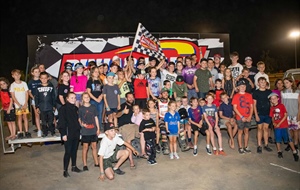 WORLD champion 500cc solo speedway rider Tai Woffinden lost no fans again last night when he invited children on to the track to help him celebrate another win.
The 28-year-old UK-based triple world champ clinched his second Rob Woffinden Classic and second major victory at the new Pinjar track in two weeks after winning his maiden senior WA title on January 5.
He led the children on to the presentation trailer to join him for a photograph, prompting race caller Grant Woodhams to label him the Pied Piper.
"King of the kids, Tai Woffinden," Woodhams said. "Absolutely fabulous; this is the nature of Tai, just the loveliest of guys, wonderfully into the promotion of speedway."
Woffinden took the title named in honour of his late father from Cameron Heeps and Dan Winchester. He was asked if he had won it for his father or himself.
"For neither really; the win tonight was more about coming here and giving back to the club," Woffinden said.
Tai Woffinden led all the way to win the Indian Motorcycle 2019 Rob Woffinden Classic. Picture: Woza's Photography

"This is where I started racing and all the dads have got together and built this amazing stadium.
"It's about all you people spreading the word of how good a night you've had tonight and how good the racing was."
Woffinden, who has been working hard in the gym, said the two wins were "a good start to the year" ahead of his world title defence and return to the UK on February 25.
"So I can definitely squeeze another meeting in (at Pinjar Park)," he said.
Heeps said it was "nice to run next to him (the world champ)".
"The track was mint tonight; it moved out to the fence and that's where the fast lane was," he said.
"So I was chasing him: it's quite cool, sit with him and follow his lines and learn a few things."
Cameron Heeps. Picture: Woza's Photography
The riders thanked everyone involved with getting the track ready, some of whom were still working till 2am before the meeting.
Supplied Justin Bianchini-Community News