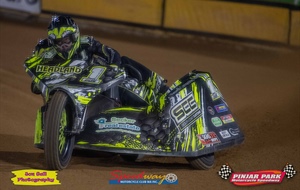 Opening of Pinjar Park Speedway
Visiting South Australian sidecar team Trent Headland and Darryl Whetstone showed why they were the Australian Champions in 2017 with a dominating performance in a magnificent night of sidecar racing. While everyone else around them fell, quite literally in several instances, the Croweaters were aggressive in the best possible way winning the 60th edition of the Title.
While Headland/Whetstone were going about the business of winning the Four Lap final the other top qualifiers had a great battle to determine the rest of the podium. After a slow start the young team of Reece Liptrott/Jesse Thomas made it through to second with Adam Wenn/Morgan Cornwall taking third. Former 7 times Champion Russell Mitchell, with passenger Andrew Sharpe, saw his chances disappear when he backed his outfit in the turn four air fence and lost touch with the race.
In a shortened program created by track problems, each team had three races to gain enough points to automatically make the Final. The three who went through were Mitchell/Sharpe, Headland/Whetstone and Wenn Cornwall. Reece Liptrott proved too good in the B Final and so joined these three after beating home Darren Nash/Peter Teale, Clayton Mills/Steve McQueen and Leigh Boujos/Chromie Holmwood.
Sidecar racing can be very unforgiving with Peter Teale, Morgan Cornwall and Chromie Holmwood all falling from the side during the night. Fortunately all three were OK and able to continue. Not so fortunate were the teams of Greig Chiplin/Scott Moffat and Jeff Bishop/Daniel Bishop. In separate incidents both teams turned their machines over and sustained too much damage to continue. Fortunately their injuries were minor.
Technically Headland/Whetstone went through the meeting undefeated but they were excluded from their second heat for passing on the infield. Other teams to win races on the night included Nash/Teale, Liptrott/Thomas who also won the B Final, Wenn/Cornwall, Bishop/Bishop, Mitchell/Sharpe, Boujos/Holmwood and Ken Hankin/Josh O'Brien.
Making the finals was very tight and several strong teams including the Fanderlinden Brothers Ryan and Adam, Horrie Payne/Matt Reese, Rocky Bryan/Matt Young, Tony Shield/Ash Brown and Scott Charsley/Jamie Thomson for various reasons weren't able to put enough points together.
The next big show for the Sidecars is the Jeff Gittus Memorial. It is set down for February 2nd. The outfits have taken to the big track like a duck to water and with such a strong contingent now racing winning the prestigious Gittus for the first time at our sensational new venue is a glory they'll all be chasing.