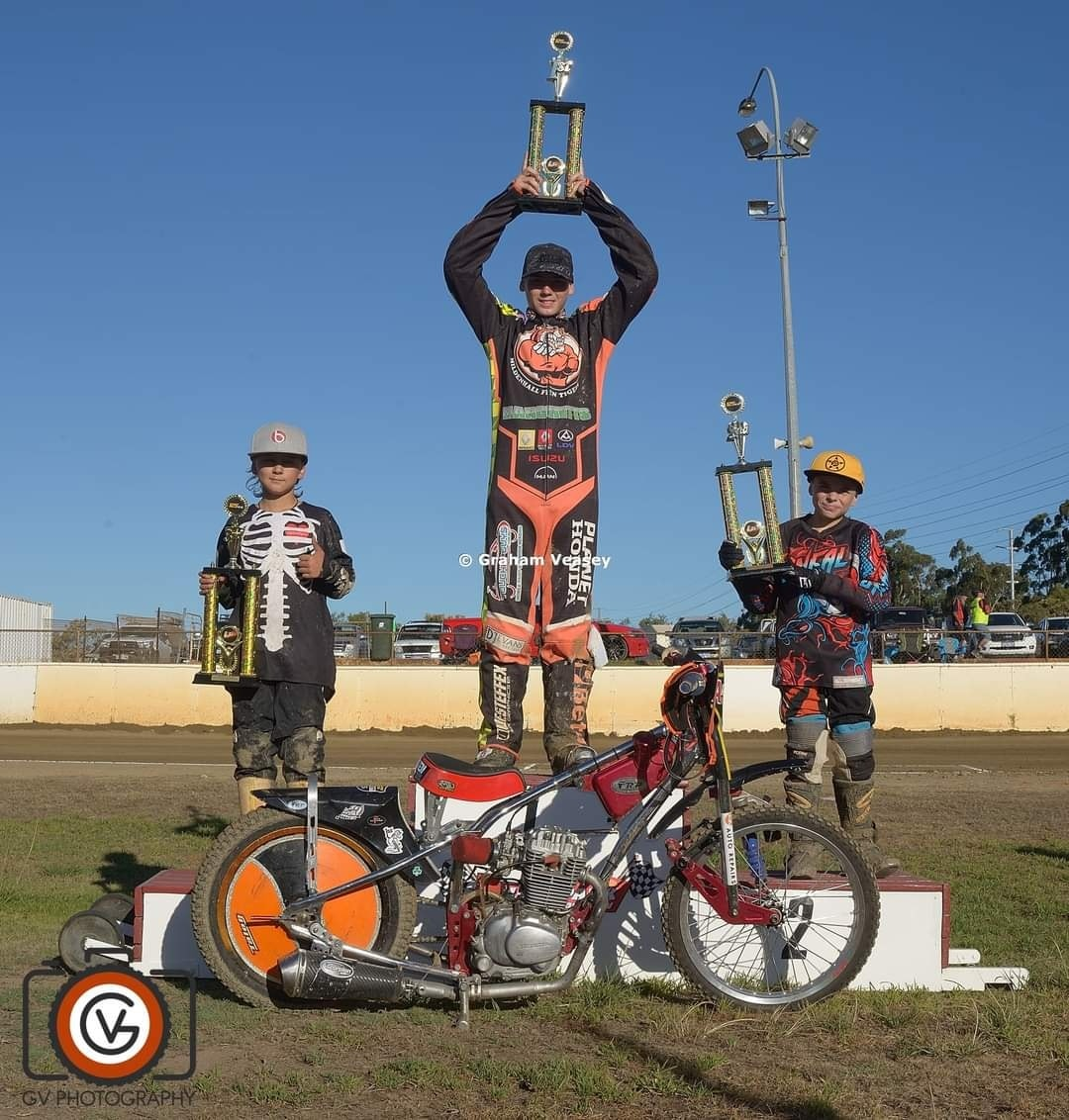 WA Junior solo competitors turned on some entertaining racing at the 142m "Woffy" Track at RCA Pinjar Park Motorcycle Speedway on Saturday afternoon, when they competed in the Western Australian 125cc solo Championship.
While it appeared, the Championship would be a battle between two, Mitch McDiarmid (the reining 125cc Champ) and Linkin Metcalf (the reining 250cc Champ) there was some spirited racing from most of the competitors throughout the afternoons racing.
While a pattern was emerging in accumulated points after the first two rounds of heats with Linkin Metcalf, Mitch McDiarmid, and Dom Colmore, all undefeated and on 6 points apiece, they all met in the next heat which was perhaps an indicator as to what may occur in the A Final.
Linkin Metcalf due to a brilliant start, got the job done over McDiarmid and Colmore who had to settle for third.
Wins went the way of Metcalf and McDiarmid in the final round of heats while Colmore faltered and finished third in his last race scoring only a solitary point.
The three riders earning their position directly into the A Main was the undefeated Linkin Metcalf on 12 points, McDiarmid 11 points, and Colmore who had experienced machine issues throughout the heat races scraped in on 8 points.
The attention then turned to the all-important B Final to see who would win this event and join the automatic qualifiers in the A Main.
In an exciting race, Phoenix Elliot claimed victory and went to the tapes in the yellow grid position in the A Main joining Metcalf (Red) McDiarmid (Blue) and Colmore (white).
As the tapes went up for the Championship decider, Metcalf again got the jump from McDiarmid, and it became a race in two as these two riders cleared away in a fascinating battle for the lead.
McDiarmid had to do all the chasing and it was Metcalf's race to lose after the first two laps. Metcalf faltered slightly in turns 3 and 4 on lap three providing a glimmer of hope to the hard charging McDiarmid who was constantly looking for a way past.
He had been trying inside and outside passes on a tricky track surface and finally made a desperate dive up the inside on lap four.
Neither rider gave an inch, rubbing shoulders and scraping paint with each other until they both fell coming out of turn 4 coming into the start/finish straight, 45 metres from home and victory.
The referee was left scratching his head with the dilemma in front of him, however some quick thinking on the part of Metcalf saw him pick himself and his bike up and head for the finish line and glorious victory in one of the most extraordinary finishes to a Championship race I have ever seen.
McDiarmid was left stranded on the track watching second then third slip fr
om his grasp as first Colmore then Elliot slipped past him to greet the victory flag.
Linkin Metcalf adds this extraordinary 125cc WA Championship win to his 2021/22, 250cc Championship title providing a rare double in a single season.
While the Championship event may be a bitter pill for young Mitch McDiarmid to swallow, it will soon be forgotten when he remounts in his next race.
As for Linkin Metcalf, who is coached and mentored by current state 500cc solo Champion, Matt Marson, he will undoubtedly enjoy his second Championship victory for this season and go onto bigger and better things.
As mentioned earlier in this column, there was some spirited and entertaining racing provided by all competitors in this exciting WA 125cc Championship event.