Ride, Race, Enjoy.
CLUB & L1 COACHING COURSE
2023 Course see registration below
Register Your Expression of Interest
ENTRY PRE-REQUISITES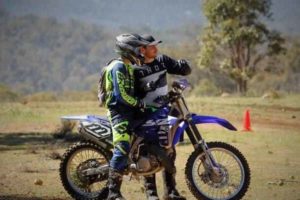 You must be over 18 years old to attend a Level 1 Coaching seminar and to hold Motorcycle Sport Coaching Accreditation (a licence).
Except for the Sport Australia online course, participants are not required to have completed any other training programs to participate in the Club Coach & Level 1 coaching course, however, practical experience in motorcycle sport as a competitor, official or member of an entrant team and a sound understanding of motorcycle riding technique is a requirement.
Before attending the 2 day Coaching Seminar, enrolled participants must register and complete the Sport Australia online courses.

For Club Coaching accreditation – Community Coaching Essentials Skill Course & Sport Integrity Australia e-Learning PBTR – Child Protection and Safeguarding.
For Level 1 Coaching Accreditation – Community Coaching Essentials Skill Courses, Anti-Doping Fundamentals Course (formerly Level 1) & Sport Integrity Australia e-Learning PBTR – Child Protection and Safeguarding.

Please click on the link supplied to be redirect to the online course platform https://learning.ausport.gov.au alternatively log into you Ridernet profile clicking on the Coach & Official tile and follow the prompts
Completing the online course takes the place of the post seminar assignments that were a part of the accreditation requirements to progress to Club Coach or Level 1 accreditation. It also ensures that participants have a basic understanding of their role as a coach before attending the 2 Day Motorcycle Specific Coaching seminar. It generally takes about 2 to 3 hours to finish the on line course.
SEMINAR OVERVIEW
The Level One coaching course is an introductory coaching course developed by Motorcycling Australia in conjunction with the Australian Coaching Council (ACC) and National Coaching Accreditation Scheme (NCAS). The course is approved and monitored by the ACC and NCAS.
The introductory coaching course known as "LEVEL ONE COACHING" comprises of:
The SportAus online course (to be completed by participant at least 5 days prior to attending the 2 day course in person)
Two Day Club & Level 1 Coaching Course incorporating:

Sport Specific Coaching
Motorcycle Sport General Principles of Coaching

Undertaking 20 hours of practical motorcycle coaching – post course (within 12 months)
Fulfil the Child Protection requirements of the state you wish to coach in (Working With Children Check)
The aim of the seminar is to introduce participants to basic motorcycle sport coaching principles and techniques, so a uniform standard of coaching skills can be applied in motorcycle sport. Before applying to attend the course you should have a good understanding of how a race meeting works as a competitor, and you should be comfortable using the Manual of Motorcycle Sport.
You should be familiar with all aspects of the discipline that you are electing to coach, for example, Motocross, Road Racing, Speedway etc.
The coaching course is not designed to teach coaches actual riding skills. Generally when someone shows interest in becoming a coach, they already have a high level of riding ability in their chosen facet of the sport. Although many consider elite level skills as desirable, they are not critical to becoming a good coach. A relevant fact that has been proven many times over is that not all football coaches were great players, and not all swimming coaches hold world records! However, great coaches should be able to contribute to the development of any athlete's overall performance.The coaching course is designed to teach "coaching" skills, to create an understanding of the management of a coaching session under an MWA coaching permit. Basically we're teaching the coach how to coach not how to compete on a bike.The course runs over a weekend, and usually commences at 8am, and runs till approx. 4pm each day.
will deal with Level 1 Coaching Principles and is held in the training room at Motorcycling WA.
At the conclusion of this 2 day course, all successful participants will be accredited as Level O Coaches. As soon as the participants have logged 20 hours of Coaching practice, post course, they will be accredited with Level 1 status.
COURSE COMPLETION
To complete the Level 1 Coaching accreditation requirements, the applicant must also log twenty hours of practical coaching experience post course. Our Sport Development Officer will be only too happy to monitor your performance and assist you in your coaching activities.
The total accreditation process will take at least three months, but must be completed within twelve months after participating in the course. When the participant has attended the training courses, and completed the twenty hours practical experience, an application may be submitted to the Motorcycling WA for an upgrade endorsement to Level One accreditation.
For more information about coaching or the Level One Motorcycling Specifics seminar you can contact Motorcycling WA Office Manager Nathalie de Montereau on 9371 5311 or admin@motorcyclingwa.org.au