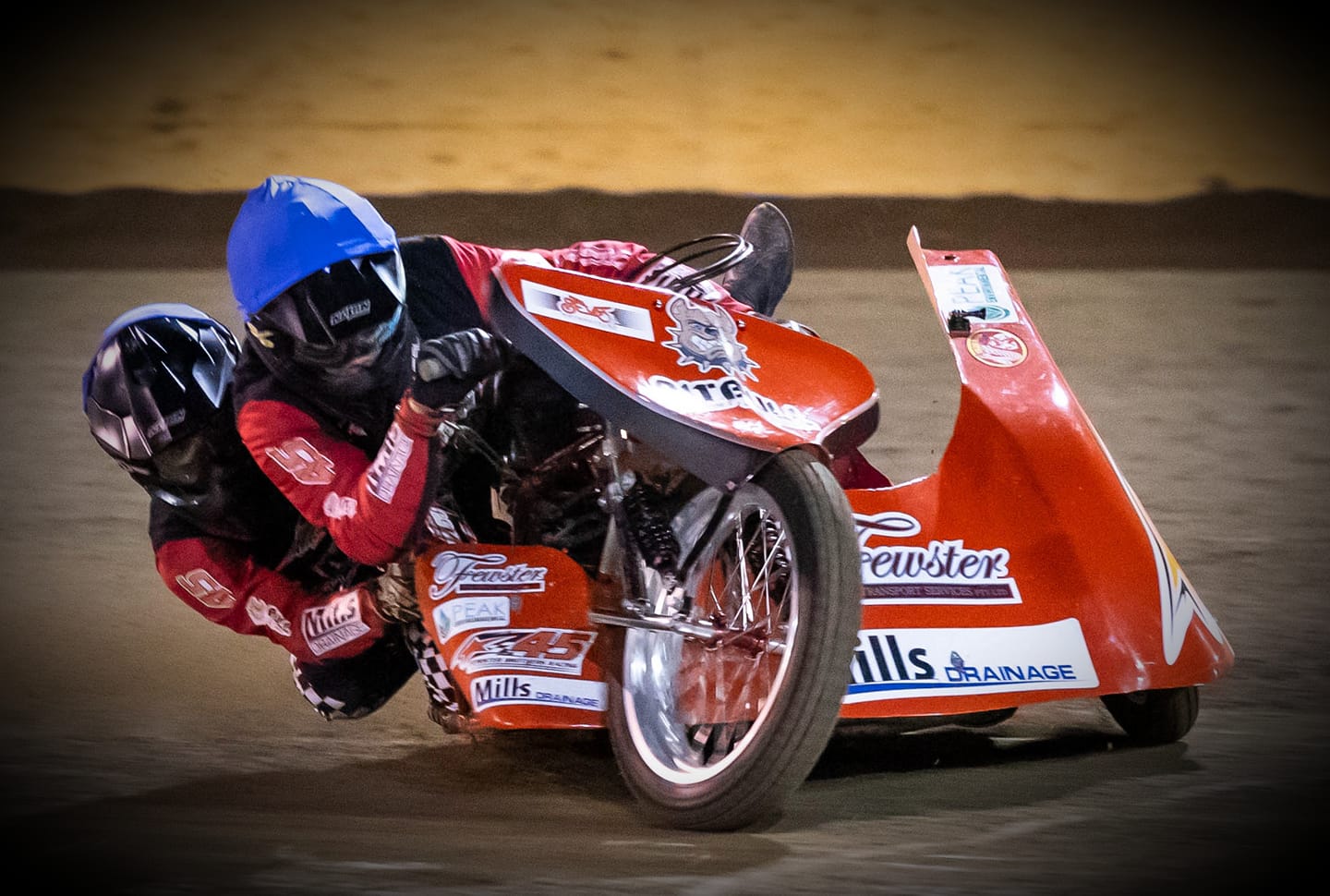 Pioneer Park Speedway, Queensland (QLD) played host to a momentous occasion in Australian Speedway Sidecar history, with spectators and riders alike witnessing Darrin Treloar's 11th claim to the Australian Senior Speedway Sidecar Championship and the retirement of Andrew Buchanan. As fans landed at Pioneer Park, the thrills kicked off immediately as Australia's finest Senior and Junior Speedway Sidecar duos competed for the ultimate national glory.

Across the evening's thrilling racing, spectators witnessed Treloar and Cox suffer a retirement, and an exclusion for Firth/Martin, Golding/Cox and Bottrell/Campbell. The hot favourite heading into the Semi Final was undoubtedly Buchanan as he inched closer and closer to the end of the evening and his retirement, clocking in one win, two seconds and one third place finish.


After four heats all eyes were glued to the track for the Semi Final with heart strings tugged in all directions as Buchanan barrelled into all four corners of all four laps. Buchanan's drive though could not match that from Treloar, who took out the Semi Final win to secure the final spot in the Final. Buchanan and Cox unfortunately retired from the Semi Final, leaving Cohen/Egan and Moon/Lovell to claim second and third place, respectively.

Featuring in the Final on Sunday 21st April was Monson/Summerhayes, Plaisted/Pitt, Harrison/McGrath and Treloar/Cox. With consecutive wins in the FIM Oceania Speedway Sidecar Championship and FIM 1000cc Speedway Sidecar World Cup under their belt, the dynamic duo that is Monson and Summerhayes were locked and loaded to blaze a trail into first place. After four exhilarating laps though, it was Treloar and Cox who stole the win, marking Treloar's 11th Australian Speedway Sidecar title!


Reflecting on the season that was, Treloar stated that "2019 marks my 11th Australian Speedway Sidecar Championship and honestly it hasn't sunk in yet. Nothing beats my first Championship win back in 1993 up in Darwin of course, but this win is definitely something else.

"Coming into this weekend I try and keep fit with 3-4 days spent in the gym, plus heaps of work in the garage developing the bike. As the Championship marks the end of the season, we as competitors were well into the swing of things
[keeping fit and staying motivated]
with most of us having already competed in 10-15 events prior.

"Andrew is a great bloke who is a fantastic addition to the sport. This weekend was emotional of course as he announced he was hanging up the boots, but as always Andrew was extremely competitive and didn't give an inch. So you had to fight hard to push ahead of him," explained Treloar, as he reflects on his final race up against Buchanan.

"The juniors are the future of the sport, so it was great having them compete alongside us that night. My son Jake was competing, so it was really special to watch him compete and see that talent continue to emerge. The beauty of watching the juniors race is that they are still learning the sport and are therefore motivated by a pure love of what they're doing, which is really exciting to see."

Running in conjunction with the Seniors at Pioneer Park across the Easter long weekend was the 2019 Australian Junior Speedway Sidecar Championship. With an impressive line-up ready to tear up the track, Sunday treated fans to even more thrills with the likes of Treloar/Gates, Milner/Niesche, Cook/ C Tickle and Howse/Commons to exclusions. Milner and Niesche appeared to be in contention early for the 2019 title, clocking up two wins and a second-place finish before their exclusion. Good fortune though saw Milner and Niesche land themselves in the Semi Final, against the likes of Headland/Silvy and Cook/Tickle, finishing in first ahead of Cook whilst Headland retired from the race.
Qualifying straight into the Finals ahead of Milner and Niesche after five races was Fewster/Fewster and Curran/Kerss. The Fewsters dominated throughout the evening into the lead up to the Final, scoring three wins and two second place finishes, whilst Curran and Kerss scored three wins, one second and one third place win.

Arriving at the Final, fans had the privilege of witnessing the clear emergence of superb Australian Speedway Sidecar talent, as all three squads became demons behind the handlebars. Coming out on top to claim the 2019 Australian Junior Speedway Sidecar Championship was the Fewster team, ahead of Curran/Kerss and Milner/Niesche in second and third place, respectively.


Western Australia (WA) locals, Jack and Adam Fewster have taken out their second Australian Junior Speedway Sidecar Championship title. As they land back on WA soil, Jack explained that "The weekend's racing was really great! The racing was super tough which really pushed us to try as hard as we could to win. The practice day prior to racing really helped us keep our cool and collected.

"Our plans moving forward are to get started on training and preparation for the new season. We are focussing on clocking up as many hours on the bike as we can, whilst also supporting our health and fitness," highlighted Fewster.

To view all the results from the weekend's action, please click here.

Stay updated on all things Australian Speedway by heading to the Australian Speedway Championships website and Facebook, and following Motorcycling Australia's Instagram.