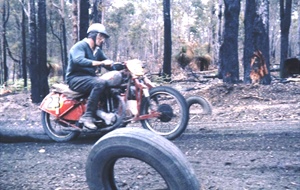 Western Australia Shannons Insurance Night of Champions
Motorcycling Western Australia are pleased to announce the induction of Glen Britza into the Motorcycling Western Australia Hall of Fame for 2018, Glen is one of two Inductees to the Motorcycling WA Hall of Fame in 2018.

Glen Britza – Hall of Fame 2018
Glen Britza joined the Bunbury motorcycle club in 1956 and first raced that year on a 250cc Triumph Tiger 70. His first open meeting was in 1961 at Suttons Paddock in Mandurah where he rode a 200cc DOT.
Glen's first road race was in 1959 at the Glen Iris circuit in Bunbury riding a 125c BSA Bantam.
His racing career included the following results:
1962 2nd Place 250cc Australian Championship
1966 250cc MX WA State Champion
1967 500cc MX WA State Champion
1967 Unlimited WA State Champion
1968 2nd Place Sidecar MX WA Championship
1969 2nd Place Sidecar MX WA Championship
1969 500cc MX WA State Champion
1969 Unlimited WA State Champion
1970 500cc MX WA State Champion
1971 500cc MX WA State Champion
1972 2nd Place 500cc Road Race WA Championship
Not content with just rising events Glen was the property officer for the Bunbury Motorcycle Club for over 40 years and he set out the safety hay bales at every Bunbury road race between 1961 and 1988 as well as timing and setting the Bunbury 200 enduro for 20 years.
When former Australian Motocross Champion and fellow competitor,Kevin Russell, found out about 'Britza's' HOF induction he recalled some great trackside memories that the two shared over the years.
KR recalls "I've known Glen since 1961 racing motocross together. My memories back then were of him being of great annoyance to me – with me on my Goldie and him on his popping Greaves 2-stroke and being passed by him. I didn't enjoy that 2-stroke passing me, which happened all too often".
"I came across him again in the early 70's by which time he was on Husqvarna's and he was the champion I was trying to catch. I had some wonderful racing experiences with him through the years. It was no surprise to me hearing later that he took his Husqvarna motocross bike and with minor modifications cleaned up the road racers in the round-the-houses events".
"Glen is now and always has been very much a motor cycle enthusiast who was also a very fierce and capable competitor. At all times he wanted to do his best to win, but always in a positive sporting fashion. Whenever I go to Bunbury motocross now the first person, I look out for is Glen for a chat and re-living the old days".
Glen was awarded life membership of the Bunbury Motorcycle Club in 1972 and his racing record and commitment to assisting and developing motorcycle sport makes him a fitting WA Hall of Fame member.

Glen's lifelong friend and also fellow competitor, Don Collins, is to be commended on compiling all the information required for the Hall of Fame award.
This year the Motorcycling Western Australia Shannons Insurance Night of Champions is being held at the Esplanade Hotel, Fremantle on Friday 9th of November 2018. The Shannons Insurance Night of Champions has a whole new feel this year and due to the fabulous success last year, this year's event is at full capacity. The formalities will finish approximately 10pm and we encourage everyone to continue the evening celebrating and socialising with family and friends.
We look forward to spending the evening with our Champions, Volunteers, HOF's , Life Members and supporters of our sport