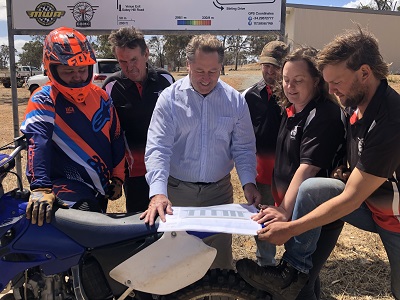 Federal Government MP Rick Wilson officially announced $32K funding under Community Sporting Infrastructure for Stage 2 at Cranbrook Districts MCC Sukey Hill track on Friday 1st March 2019. This second stage is the construction of a camping area ablution block allowing those riders who travel outside of the Shire of Cranbrook the flexibility of camping the weekend to make the most of the open and flowing motocross track.
Visiting the track for the first time MP Rick Wilson spoke highly of the community support behind the club and also of its ability to draw people to the small township of Cranbrook in the states Great Southern. He was most impressed that in such a short space of time, just under two years since the motocross track construction, the club had managed to secure a state level event at the Sukey Hill venue. "What a wonderful opportunity for the township of Cranbrook, and a boost to its economy with all the riders making the trip down for the State Round, and also the leadup event being the South West Interclub" MP Rick Wilson commented. Club treasurer Magnus Bentley said "the club needs to acknowledge the local shire also for their support, the benefits of having a shire councillor sitting on our committee meetings has opened the line of communication with the Club Development Officer in regards to being made aware of, and then with support in writing government grants"
Sukey Hill Regional Motorcycling Facility is being developed over a four stage plan, with the track watering system and clubhouse stages still to come. Stage 2 will be officially opened when Cranbrook Districts MCC host the Bunbury KTM Suzuki South West Interclub Series on Sunday 23rd June.
L-R At Harvey Hill Jump with Neil Preston, MP Rick Wilson, Magnus Bentley