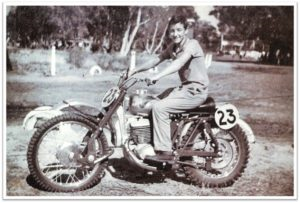 Vale Glen Britza
11.9.1938 – 27.6.2020
Glen joined the Bunbury Motorcycle Club in 1956 and was ultimately awarded life membership for his dedication and passion to the club and the sport. He secured multiple State and National Championship titles in motocross discipline. Glen was an absolute legend in his time. Even after retiring from competitive racing, Glen was always involved with supporting and volunteering at the club.

For over 40 years, Glen was the property officer for the Bunbury Motorcycle Club setting out the safety hay bales at every Bunbury road race between 1961 and 1988 alongside timing the Bunbury 200 enduro for twenty years.

An active part of the motorcycle community, Glen will be dearly missed by many.

In November 2018 Glen was inducted into the Motorcycling WA Hall of Fame and his winning bike now proudly sits on display in Victoria as part of the Motorcycling Australia collection.
The staff and Board of Motorcycling WA wish to express their condolences to the Britza family.