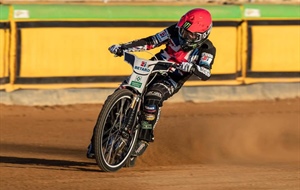 TAI WOFFINDEN IS RIDING! And IT'S ON THE BIG, NEW, TRACK!
The Rob Woffinden Classic is a premium event celebrating the legacy that Rob left when he helped build Pinjar Park Speedway from the ground up. This is the most premium event on Pinjar Park's calendar and attracts some of the best riders in the world and this year we are fortunate to have THE BEST. That's right folks… TAI WOFFINDEN IS RIDING! And IT'S ON THE BIG, NEW, TRACK!
Tai loves the speedway club and the WA fans so he has extended his stay in Perth to compete in this event alongside the best that WA has to offer and the club are working hard to make sure the track is in tip top shape to produce some fantastic racing. The pre-program for this event will start from 4:45 PM. Entry price is $25 for adults and kids are free.
The prestigious "Rob Woffinden Classic" event at Perth's new Pinjar Park Motorcycle Speedway has become a true internationally recognised event on the Speedway calendar.
It has been won by some wonderful overseas riders since its inception back in 2009. Previous winners include Freddie Lindgren, (Sweden) Ricky Wells (USA) Tai Woffinden (GB/Aust) and Gino Manzares (USA) to name a few. Our own professional rider, Cam Heeps (WA) also has his name etched on the trophy.
The timing of the event is held during the off season for UK and European riders, however many could be convinced to travel down under to attempt to lift the crown and add their name on the list of impressive winners.
Previous winners include:
•Freddie Lindgren (Sweden)
•Ricky Wells (USA)
•Tai Woffinden (GB / (AUS)
•Gino Manzares (USA)
•Cam Heeps (Aust)
Tai himself previously won the event on the small track that his famous father helped to construct back in 2012 on his way to winning his first British Championship and World Solo Crown.
While this will be the first time this fabulous event will be run on the brand new 330m Pinjar Park circuit it will continue to honour Rob Woffinden for the tremendous contribution he made to speedway in general, particularly right here in Perth, Western Australia.
After the recent successful opening of the new Pinjar Park Speedway track Tai announced he would be competing in this year's Woffinden Classic-"I'm stoked to announce that i will be racing on the 19th January at the Rob Woffinden Classic at Pinjar Park Speedway! The event will be run over 40 heats with solos & sidecars will be an awesome night for all the family! You might pay for the whole seat but you will only use the edge!"
This year is the 10th Anniversary of the race meeting honouring the late Rob Woffinden. The Rob Woffinden Classic initially started out as the Woffy Westernapolis in 2009 with SMCWA Committees inviting International and National Riders to the competition and has become a premier event amongst the Solo Riders.
The 142m Pinjar Junior track has sustained this event and will continue to do so in the future. It is fabulous to have a field of 22 riders for this event this year, all who have a Western Australian background. An enormous field of local riders, as well as local riders returning for a break – Cameron and Matt from competing overseas or who have competed overseas many years ago – Frank, as well as the current World Champion Tai, who spent his childhood in Peth and returns regularly. Add to the mix our visiting British rider and we have a 23 rider field!
More about Rob Woffinden and the Classic event HERE
The Junior Speedway field is slightly depleted this weekend as Luke and Declan Killeen compete in the Australian Titles for 125cc and 250cc, and from everyone in WA, good luck boys!
The sidecar brigade will be there in full force as they get some more track time in preparing themselves for the Jeff Gittus Sidecar Memorial.
Rob's legacy, as well as the hard work and dedication of other volunteers and committees, has enabled motorcycle speedway sport to flourish in WA. This has culminated in the construction of the new Pinjar Park venue by those volunteers and committees and has supported by businesses that were able to see the future of the sport.
The Speedway Club of WA would like to acknowledge and thank "Indian and Victory Motorcycles" who are sponsoring this event for the second year in a row. Their impressive range of bikes will be on display on the night and if anyone is in the market for a Motorcycle you know where to go. Head down and see Aaron and the team, they will certainly look after you.
WHO DO YOU THINK IS GOING TO TAKE HOME THE ROB WOFFINDEN CLASSIC 2019
A HUGE Field set to contest the Rob Woffinden Classic -an event that you do not want to miss with 23 solo riders set to battle it out this Saturday night at the new BIG Pinjar Park Track.
Here is the list of solo riders competing for the trophy:
Tai Woffinden
Cameron Heeps
Daniel Winchester
Josh Bailey
Frank Smart
Matt Marson
Doug Scoble
Blake Russell
Drew Winchester
Kale Ballantyne
Ethan Ballantyne
Ryan Pope
Jason Bishop
Bryan Miller
Jason Marzoli
Brad Gordon
Jarryd Ziedas
Kobee Ziedas
Kris Keast
Carley Gittus
Des Heys
Brady Webb
Adam Fanderlinden
Plus there are 11 senior sidecar outfits and a great field of Juniors to entertain the whole family!
Good luck to the riders – No Brakes, No Gears and No Fear!
The Spectacular Sidecars
Much has been written and spoken, about World Champion, Tai Woffinden's wonderful win in the Western Australian State solo championship (and rightly so) at the brilliant new Pinjar Park Motorcycle Speedway.
To some degree Tai's appearance and outstanding riding skills overshadowed what can only be described as a "sensational night of sidecar racing on the large 330m Pinjar Park bowl.
On a tricky track surface the sidecar boys put on a superb night of hard and fast racing. The inclusion of Trent Hedland, 2017 Australian Champion, added some spice to the event -his outfit was super-fast and he raced hard and fiercely as only he knows how.
That's how these east coast guys are forced to race against quality field's week in week out if they are to make it to the top in their chosen death defying sport.
Having said that, it's fair to say the West coast local sidecar brigade until recently have mostly ridden on and set their bikes up for the much smaller 142m track where only three sidecars competed in each heat. Despite this huge disadvantage, most of the WA guys are right on the pace and very competitive.
Looking at the quality and growing number of sidecars in the local ranks it's only a matter of time before WA once again dominate the National sidecar rankings and Championships.
Sidecar racing is very exciting but very very dangerous. They achieve very high speeds going down the straight and demand huge skill and throttle control through the turns. The inclusion of an air safety fence at Pinjar Park provides some protection, however it's no picnic and only the very brave do it.
Facebook Event: https://www.facebook.com/events/284660052194714/
Facebook Page https://www.facebook.com/PinjarPark/
Event will start from 4:45 PM. Entry price is $25 for adults and kids are free.
4:00 PM-Gates Open
4:45 PM-Junior Pre program
6:00 PM-Rider Parade
6:30 PM-Solo and Sidecar Action!
Pictured: #108, Tai Woffinden
•Winner of the Rob Woffinden Classic 2012
•Three times British Champion
•Three times World Champion
•2019 West Australian solo Champion
Pictures: Wozzas Photos.
For further media queries contact:
Linda Russell
Motorcycling WA Media Officer