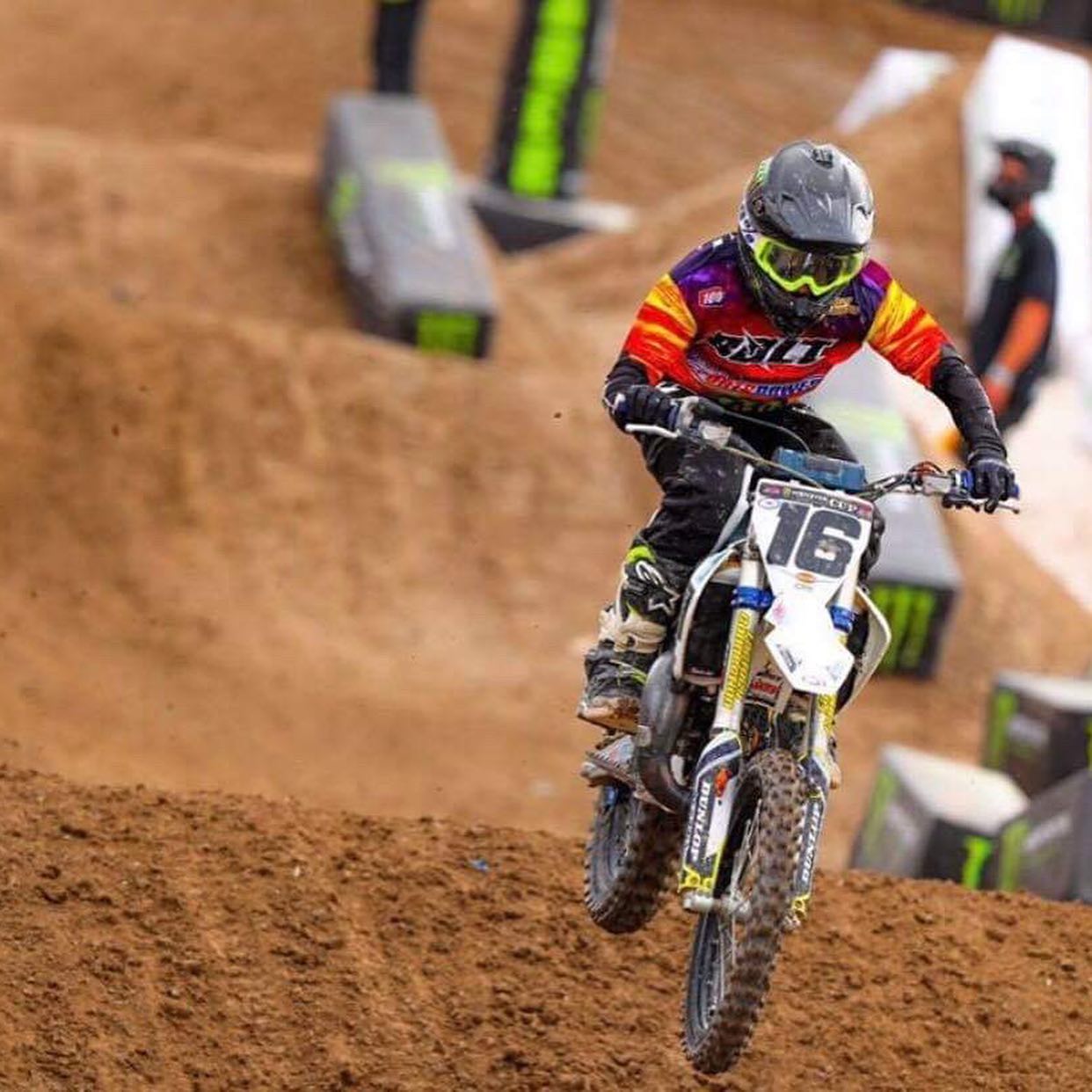 Monster Energy Cup 2019 saw Western Australian, Myles Gilmore showcase his ever-growing talent in Las Vegas only a short few weeks ago, grasping 3rd place in the SXF Supermini Class.

Gilmore, only 15 is originally from Kalgoorlie and still calls it home today. Goldfields Motorcycle Club is where he began is journey at 4 years old, starting as early as possible to begin the fight to become the best. As the years went on Myles continued to compete in State and National Championship rounds until 2016 when his parents made the decision to take the talented rider overseas, this saw him take on training and racing in the USA, making the dream come to life.

The journey to the United States took the Gilmore's to Millsaps Training Facility in Georgia which is now where Myles spends majority of his time. With the original plan of staying for only 6 months began it soon expanded as it was only the beginning when Myles grasped 9th and 11th at Loretta's. Coming home to reset their Visa's the family were off again, heading back to the USA in November to compete in the Minio's Championship, it was here that the many watching on saw Gilmore win his first Championship in a Supercross race on an 85cc.

It was then time to reset and do it all again, competing in Loretta's where Myles showed great improvement and took home 5th and 6th in two classes. Monstercup was next on the agenda however, after sadly crashing in both moto's Gilmore finished 16th but he was determined to come back stronger than ever.

Whilst taking part in races across the United States, Gilmore knew he needed the edge that many of the pro's have and that was his training regime. Gilmore went on to say that "training at Millsaps is very intense and essentially we do the same training as many of the pro riders here in the USA. Training 5 days per week, 4 of them including riding".

After chatting with Myles, we were able to get an inside look at what his weekly schedule looks like. At 7:30am his day would begin with a warm – up in the gym, followed by riding from 9am until 1pm but it didn't just stop here, once lunch was over another gym session was under way or a road bike ride. Whilst many watch on, the fact that Myles is only 15 often slips their minds, as the day comes to a close with training schoolwork is next on the schedule. Followed by a chance for a little bit of fun on the pit bikes or a game of basketball finishing off with dinner and heading to bed ready to do it all again the next day.

As it all seems a vigorous schedule for a young gun of only 15, Gilmore says "We are learning to be pro athletes and Colleen Millsaps our trainer teaches us how much hard work is involved in that. The level of junior MX and SX in the USA is very high, with most of the top kids being home schooled and ride and train full time. It's a huge sacrifice by the families and something that I don't take for granted."

The sacrifice soon paid off as we saw the Monster Energy Cup 2019 come around the corner. Gilmore was hoping to take a step onto the podium this year, early on in the day it was full steam ahead as spectators saw the young rider finish second fastest in his first practice and third in his second practice, finishing off 5th in the third and final practice after bike issues. The best was yet to come as bike issues where not going to hold this determined rider back, it all came down to what he had to offer come race time.

Myles went on to say "Going into the night show I knew it was important to get a good start as the track was really hard to pass on and there wasn't many obstacles that were too hard, except the dragons back which I had been nailing all day". As his confidence soared, Myles showed why 'West is Best' as he lined up to take on some of the world's greatest young riders, taking 4th place in the first Moto. Soon the next Moto was upon him, as he lined up next to Ferry who won the first Moto and Gilmore "hoped to shut him down before the first turn". After coming out in 10th his skills were put to the test as he soon took 5th but not for long catching up to 4th place. These results saw him finish 4,4 taking 3rd place overall with Gilmore being "really happy with that".

Just when you thought it was all over, Gilmore took his place in the finals of the Supercross Futures Series. The audience watched on as they saw the W.A rider finish with 2,3 ending up 3rd overall. A great achievement on the world stage.

Myles has great plans for the 2020 season, planning to race in the USA on Supermini until Loretta's next year, eventually making the switch to 'big bikes' on the 125cc or the 250cc however talks of Europe is currently still in the mix. We wish Myles all the best on his endeavors in the future and continue to cheer him on as he shows the world all of what W.A riders have to offer.