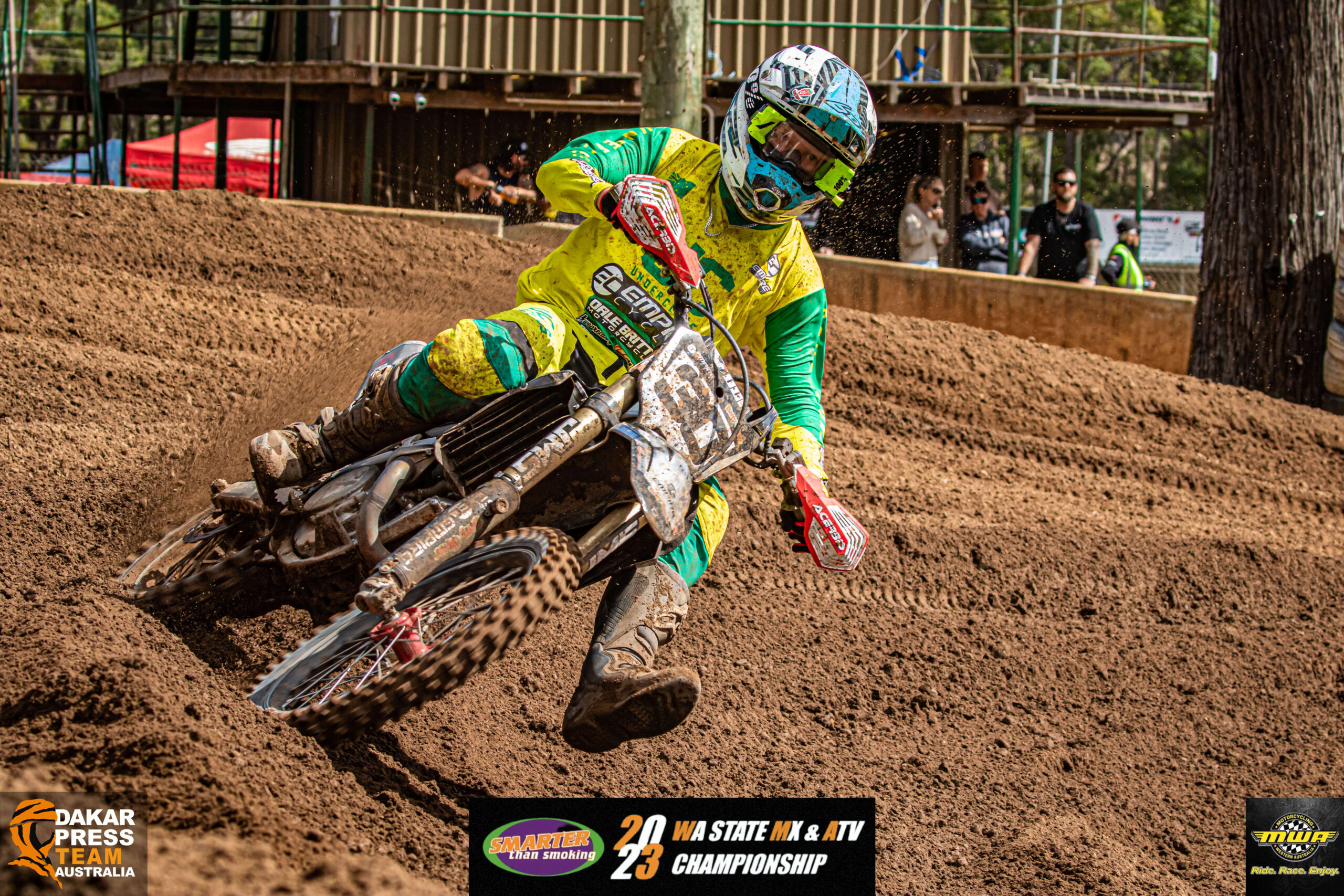 Get Ready for an Epic Showdown at
Coastal Park – Home of the Coastal Motorcycle Club
!

Calling all motocross fans and racing enthusiasts! Brace yourselves for an exhilarating weekend of high-powered action at Coastal Park, Henderson. Round 2 of the 2023 WASmarter Than Smoking State MX & ATV Championship is just around the corner, and the anticipation is reaching fever pitch. Mark your calendars for Saturday, June 17th, as we celebrate Senior Day and witness the unmatched talent of motocross superstar Dean Porter #30. Don't miss out on the opportunity to witness the most skilled riders conquer the thrilling sand track!

Q&A with Dean Porter: Exclusive Insights into the Motocross Legend

How did you get started in motocross? What drew you to the sport?
Dean: It all started with going to the tracks and watching my dad race, but what truly captivated me was the sheer thrill and adrenaline rush that motocross brings. As I grew older, the training aspect became a passion of mine. Motocross is the perfect blend of fun and intensity!
Can you share some of your most memorable moments or achievements in your motocross career so far?
Dean: The standout moment has to be the unforgettable AJ's National in 2008. From qualifying first to dominating both motos in the 450 class, it was a perfect day. Additionally, racing a full season of AMA Pro Motocross in 2011, competing against a stacked field, and securing a couple of top 20 finishes were experiences I'll forever cherish. And let's not forget winning an impressive eight senior state titles. It's more than I ever dreamt of achieving!

What does your training routine look like? How do you prepare physically and mentally for races?
Dean: Nowadays, my training routine has taken a back seat to pure enjoyment on my dirtbike. However, I still keep active with my bricklaying endeavours, which helps maintain my fitness. Whenever possible, I make it a point to hit Coastal Park on Thursday afternoons. Back when I was pursuing racing professionally, my training was full-time, with fitness being my strength. While I wasn't always the fastest in qualifying, I made sure I had the stamina to push through till the very end.

Are there any particular challenges or obstacles you've faced as a motocross rider, and how have you overcome them?
Dean: The challenges and obstacles in motocross are often the injuries that accompany the sport. Overcoming those setbacks and bouncing back stronger has been a constant battle. Balancing work and pursuing a professional racing career while securing the necessary funding for national races has also been a significant challenge. I consider myself fortunate to have had incredible sponsors throughout my journey.

What are the qualities that make a successful motocross rider?
Dean: Without a doubt, the most vital skill or quality for a motocross rider is the ability to endure. This sport demands toughness and resilience. While being physically fit is a must, pushing through when exhaustion kicks in is the key to success.
How do you maintain a balance between risk-taking and safety in a high-speed and extreme sport like motocross?
Dean: The best way to balance risk-taking is to strategise on the track. Identifying areas where you can push to the limits and sections where smoothness reigns supreme is crucial. However, to reach the pinnacle of this sport, taking calculated risks is essential.
Are there any riders who have inspired or influenced you throughout your career? If so, who are they and why?
Dean: While I looked up to motocross legends like Carmichael and Everts, the local riders in Western Australia had a profound impact on me. Jamie Brockman, Ben Hothersall, Matt Battista, and Dale Britton were the names that inspired me the most. Watching them in action fuelled my desire to become as skilled as they were. Their dedication and talent motivated me to push myself to new heights.

What advice do you have for kids who aspire to be motocross riders?
Dean: To all the aspiring motocross riders out there, my advice is simple: enjoy every moment of it. Don't worry too much about the results. Instead, focus on becoming as fit as you can, working as hard as you can, and racing with all your heart. When you give it your all, regardless of the outcome, you'll know that you've achieved greatness.
What are your goals and aspirations for the upcoming event? Any specific strategies or plans you'll be implementing?
Dean: My goals have shifted as time has passed. While winning used to be the ultimate objective, I understand that competing against the young guns without putting in the necessary work is unrealistic. Now, my goal is to stay safe, have some epic battles on the track, and most importantly, have a blast! As for strategies, I'll focus on not getting as tired as I did at Manjimup. Trust me, that was not a pleasant feeling! (laughs)
Join us at Coastal Park and Experience the Thrill!
Coastal Park holds a special place in Dean Porter's heart. It's his home track, where countless memorable moments have unfolded, and numerous titles have been secured. The track may have undergone changes over the years, both in layout and the texture of the sand, but the dedicated Committee and track crew never fails to create an exhilarating racing environment. Prepare to witness the track's transformation into a rugged, demanding battleground!
A Massive Shout-Out to the Incredible Sponsors!
Dean Porter would like to express his deepest gratitude to the remarkable sponsors who have been instrumental in making his racing dreams a reality. A special thanks to
Empire Cycles
,
Dale Britton Motorcycles
,
Berry Sweet Strawberry Farm
,
The Underclass
,
Joondalup Motorcycles & Suspension
,
HRC Carpentry
,
Maxima Racing Oils
,
FunnelWeb Filter
,
100Percent
,
Fist Handwear
,
Pro-Pleat.com Motorsport Seat Covers
,
Westeffex
, and
CDL Cabinets
. Your unwavering support is truly invaluable!

Save the Date: Seniors Saturday, June 17th, Juniors Sunday 18th June!

Make sure to reserve your spot at Lot 170 Cockburn Road, Henderson, this weekend. Get ready to witness the action, as Dean Porter takes on the fierce competition in the
AirBlast Australia
MX1 class. It's an event you won't want to miss!

Let's gather in full force, cheer on our favourite riders, and embrace the excitement of motocross at its finest! See you all at Coastal Park for an unforgettable weekend of intense racing and the true spirit of motocross!

Dakar Press Team Australia