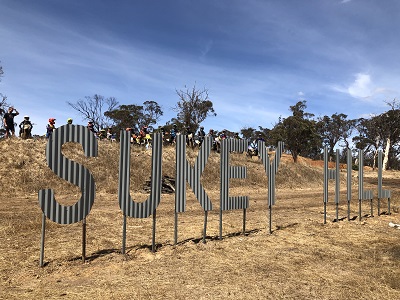 National level motocross riders Matt Fabry and Jayden Rykers tested out the Sukey Hill motocross track at the weekends coaching clinic, ahead of WAMX state round in July. Hosting an event of this level is quite an achievement for the Cranbrook Districts Motorcycle Club, having constructed the track just less than three years ago, and it has taken the WA motocross community by surprise, with many of the riders not having tackled its slopes.
Rykers, 19 years originally from Byford, now based out of Melbourne, is a Raceline Pirelli KTM team national rider in MX2 division placing 4-7 over the past few years. He organised the clinic along with WA motocross young gun Fabry from Harvey. Fabry currently under Strickland Race Development hopes to be sponsored by a national motocross team after placing first in 2018 state MX2 class being the year he turned senior.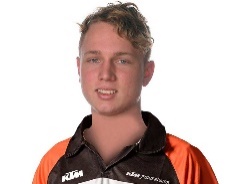 This coaching clinic gave an opportunity to focus on track lines to give rider advantage at the state event. Both Rykers and Fabry commented favourably on the open and flowing Sukey Hill track design which allows the senior MX1 (450cc bikes) and MX2 (250cc bikes) divisions to shine. Rykers said "It allows you to open up your bike and enjoy the ride, as its fast. Harvey Hill out the back would definitely be a favourite for me" Fabry added "you would need to also include the corner ant hill jumps to the list as they allow you to scrub your bike over the top which is fun." The off-camber corner jump also ranked a mention due to its technicality.
Track surface was a debatable topic between riders. The 2.117km Sukey Hill track changes from deep sand at the start line through to clay at the top of Harvey Hill. Fabry said he would consider using a paddle tyre for the state round when the track is fully prepared rather than the 53 Dunlop tyre he is using now.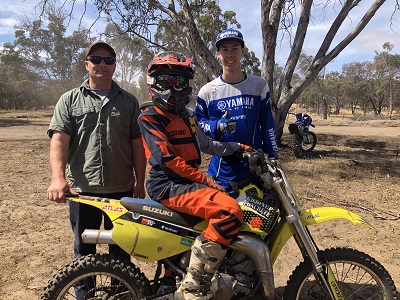 Club president Justin Shepherd said the interest generated in our club since the announcement that a state round will be held here in Cranbrook has been unprecedented. "I guess we have caught the Motocross fraternity by surprise as we are the new kids on the block and many Perth riders haven't travelled down this way yet". Local rider Campbell McMahon and Paul Smithson PBS Racing Team hope to make the most of having a state round on their doorstep.
It's an exciting time for the sport of Motocross in the Great Southern and timely too with Albany Motorcycle Club finally securing a venue at the motoplex on Down Road.
Cranbrook State Round is 6-7th July 2019.