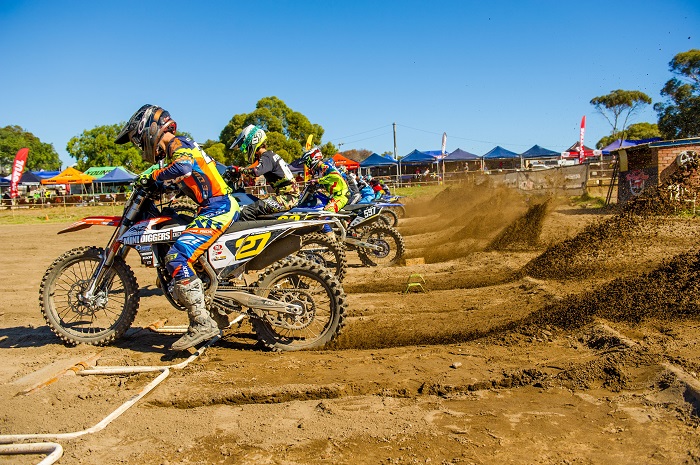 From a down pour in the previous weekend to clear skies and a touch of warmth, the first round of the WAMX Make Smoking History State Junior Motocross Championship was bright and clear.
Weeks of training, determination and self-motivation brought over one hundred junior motocross riders to the gate at Coastal Motorcycle Club. Itching to get on the bike from rider's meet, juniors were ready to compete for a podium finish.
From the first drop of the gate; the ever-refreshing drink; the repair of the bike ready to go again; the hot food to fill a day's exercise; to the last chequered flag waved, the first Junior MX State Round was one not to be missed.
50cc Auto
The first few laps of the first race from the 50cc Auto's saw quite a few competitor changes within the ranks. Mason Brown managed to squeeze his way past Deegan Fort and Nate Tomerini to come out with a win for the first race and respectfully win the 50cc Auto class with the most points at the end of the day with Deegan coming in at a close second and Nate with a podium finish of third. Race two saw Xander Conduit jump up to fifth position with Albie Reeve only four seconds behind but managed to secure Xander's place in the third race and come away with an overall finish of fifth. By lap two of the third race, there was a steady pace of Sol Pellicano, leading the middle pack with a placement of seventh, Jaidyn Miles in eighth, Charlie Butler in ninth position and Brax Johnson in tenth.
65cc 7-U10 Years
A fantastic double podium win for Mason Brown who managed to secure first place and overall point leader for the 65cc 7-U10 year class. Again, Deegan Fort claimed his podium win for second place with second place point leadership; safe to say there is definitely going to be a bit of rivalry between these two for the season. Xander Conduit raced in to make third overall for the day. A challenge for all riders with the conditions at Coastal, but some made it through, determined to finish and see the wave of the chequered flag at the very end.
65cc 10-U12 Years
No surprise that young gun Kayden Minear finished first overall and also came first in all of his races. Close behind were Seth Shackleton in second and Patrick Butler with third position overall for the day. Jake Rumens managed to place second in the second and third race and claimed fourth position on the leader board, giving Patrick Butler a little run…Kaidan Freight held his position for eighth in the third and final race with Connor Wiese closely behind, but Connor overtook Kaidan in the end with points. A good eyeopener for the rest of the season for these young superstars.
85/150cc 9-U12 Years
The junior round seemed to have a lucky effect on a few riders, who again doubled their podium wins. Kayden Minear and Seth Shackleton respectively finished first, and second again for the 85/150cc 9-U12 Years, unfortunately Patrick Butler came in fourth with Kai McGinty taking third position overall for the day and couldn't double his podium finishes however it doesn't mean that Patrick can't do it in the future…there is definitely a lot to look forward to in the upcoming junior state rounds with these four riders. There were a lot of changes between tenth and fourteenth position during race one which was exciting to see the motivation for riders Connor Weise, Luca Romano, Indy Radcliffe, Declan Caldwell and Skye Graham. Races two saw most riders keep a steady pace for their positions while race three saw the majority push their limits to make a final mark for themselves for the day.
85cc/150cc 12-U16 Years
Deacon Paice soared through races one and three to finish not only first in both but finish greatly second while Dylan Walsh secured his place as points leader for the class. Not with some difficulty, Dylan raced into first for the second race while coming in second place for races one and three. The first and second race saw riders chop and change positions leaving those watching, wondering who would make it through to the final wave of the flag. From position fourteen and above, there were many riders gunning it through to overtake one another. Brodie Taylor, Jordan Minear, Tyrone McNally, Archie Freegard, Zane Garraway, Kai Pratt, Jye Tomerini and Summer Mills fought off fantastically against each other and demonstrated terrific skills.
100cc-125cc 13-U16 Years
Well…was there a battle between Brock Flynn and Cody Chittick! If you check out Speedhive on MyLaps, make no mistake see it for yourself. Race two saw Brock overtake Cody to take first position and claim his podium win for first and also points leader. Cody Chittick was a close second followed by Seth Manuel for third. Race one saw everyone except the top two, change positions so many times, you would think that anyone could have made the podium. Jye Tomerini and Seann Arrowsmith battled it out for thirteenth and fourteenth position while Dylan Walsh had a few scratches leading him to a safe eleventh behind Bailey Smith.
128cc-150cc/250cc 13-U16 Years
This class saw Seth Manuel overtake both Brock Flynn and Cody Chittick to make points leader and finish first overall, it wasn't without a fight though. Seth fought hard to keep his position of first all the way through all three races with Brock changing back and forth between fourth and fifth position and Cody going from second to first in the final race. The first race saw Jordan Johnson come from last position all the way back to ninth…self-motivation can get you far! The second race always seems to keep a steady pace for changes within the riders no matter what class, but Mitchell Killeen managed to overtake Haiden Hills and Jordan Smith to come out with a tenth finish. The third and final race for the class saw a change between Will Rush literally rushing into third place, Jordan Johnson managing to get above Jake Turner for a finish in fifth place and Jordan Smith Battling between Corey Smith and Joshua Whately in the back pack for the final race.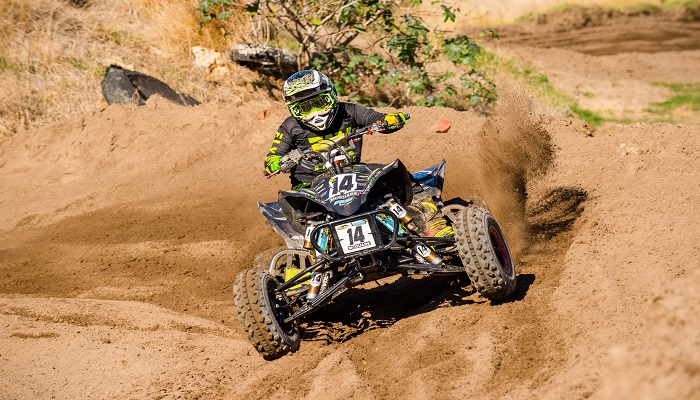 Quad Comp 250cc 13-U16 Years
Joshua McQuade came out on top as the points leader in the end, but not without a fight. Race one saw him overtake Deegan Lough while in race two he managed to keep his position happily however race three was where the action was at. Amira Schmid roared through to come in to finish second above Amba Boland who respectively finished third. The last race saw a bit of an overtake with Jack Sawyer and Sienna Comito going head to head to eventually leading Sienna to claim sixth position over Jack who came seventh. With Joshua leading the pack followed by Amba and Amira who knows what is to come for the future state rounds?
Girls 12-U16 Years
The first junior state round saw the older girls class taking part in the championship series. Jaylee Rimbas made her mark with winning the overall class for the day and also fantastically keeping her number one position for all three races of the girls class. Hannah Stewart came in second for the day, but not without some difficulty. A few crashes to be had and a little bit of a head to head with Jaylee, she is sure one to watch for future events. The first race saw all of the other girls keep their positions at a good pace with Summer Mills leading the pack for third position followed by Phoebe Bronwin, Kate Luyten and Madyline Drewett. The second race saw a change in positions between Madyline and Kate while the third race for the girls championship was kept the same as the first race. Awesome racing from the girls within motocross.
A brilliant day of racing by all riders. A massive thanks to Coastal Motorcycle Club for hosting the first round of the WAMX Make Smoking History Junior State Motocross Championship. A greater thanks to all the officials, volunteers and parents for making the day happen. Rest up people, because it will all be happening again for round 2 on the 15th of June at Collie.
Photos Gordon Pettigrew-True Spirit Photos