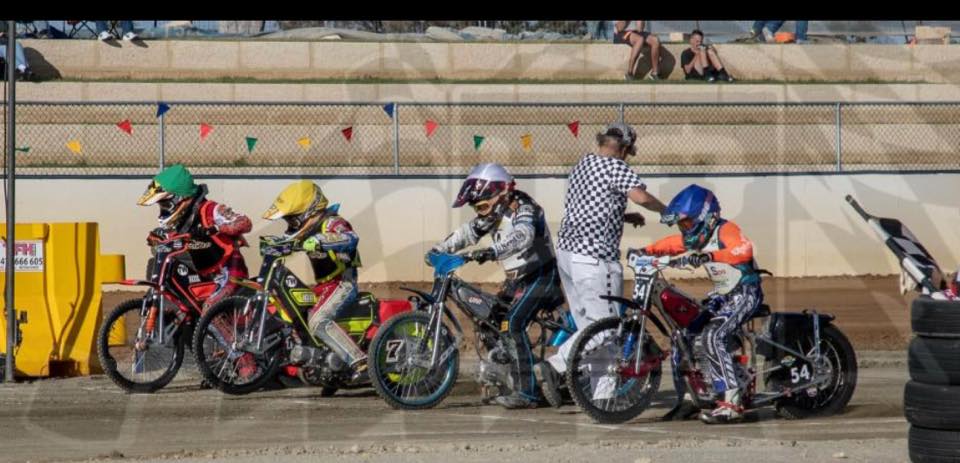 Speedway 500cc Solo action returns to the fabulous Perth Motorplex venue for their Gold Cup Grand Final event Saturday evening 13th April.
As the regular motorcycle season ended at Perth's Pinjar Park Motorcycle Speedway a fortnight ago the solo boys will be eager for one more hit out at the unique Motorplex circuit before their bikes are stripped and rebuilt over the winter months ready for next season.
Most of the Western Australian solo boys love strutting their stuff at the Perth Motorplex circuit and will be going all out to impress the predominant 4 wheel speedway enthusiasts.
The inner solo track at Perth Motorplex has unusually long straights with comparatively tight turns which are also quite flat with little or no camber adding to the challenge. The bikes are set up with high gearing for the long straights which makes it difficult to get them around the tricky turns.
While the full list of nominations was not known at the time of writing, there are many of the regular Motorplex competitors running who have produced good results at previous meetings.
Among these is Dan Winchester who certainly knows his way around the Motorplex track. While Dan's 2018/19 season, by his own standards, may not have been his best, he appears to be the guy to beat in Saturdays Gold Cup event. Having said this there are a few other riders who will argue that they have Dan's measure and if I'm correct will occupy spots on the podium at nights end. I refer to of course, Matt Marson who is in red hot form aboard one of Tai Woffindens ex GP race bikes after his return from the Uk for Perth's summer season. Des Hayes is the other bloke who has consistently shown good form at the Motorplex venue and will want to continue on where he left off last time out there.
It's great to see that Jarryd Zeidas has nominated for the Gold Cup event as he was involved in a huge crash with another Perth Motorplex favourite, Bryan Miller, when they competed in the King of Pinjar event just a fortnight ago. It was thought Jarryd had a broken wrist along with a few cracked ribs, but x-rays revealed all clear.
Bryan Miller did not fare so well however and has undergone surgery to plate his broken collarbone which explains why he is a non-starter for Saturdays big event. Knowing Bryan if there was any way he could control the bike he would be racing at this event. He loves the Motorplex circuit and would move heaven and hell to be here. These guys are as tough as nails. "Any tougher, they would rust".
Drew Whinchester, Jason Marzoli and Ryan Pope are the three other riders who have performed well down at Perth Motorplex and it's great to see Jack Hunter-Mehtens up from Collie to have a crack. Jack hasn't ridden regularly this season but he is a good prospect and he like the others will cherish this final run of the season.
While he hadn't nominated at the time of writing, Blake Russell was in sizzling form at Pinjar Park a fortnight ago at the King of Pinjar meeting when he beat home former Perth lad, Connor Bailey, who now resides in Victoria. This guy can ride and if he stays upright, he could also be one to watch.
Also on the card for Saturdays Gold Cup Grand Final event is several races for Flat Track solo bikes. Unlike 500cc speedway solos which are specially designed for oval racing, Flat Track bikes are essentially Motor X bikes and are a lot more difficult to ride around a speedway track than a speedway solo bike. While they must use speedway rear tires, the major difference in their design is Flat Track bikes have huge amounts of suspension and a very high centre of gravity that provides a real handful for most riders. The Motorplex Gold Cup Grand Final event is also the final event in the three round Flat Track Championship. The highest point scorer on aggregate after this meeting will be crowned the ultimate winner.
Former speedway solo star Greg Bartlett is in the box seat to win the Championship, however Tim Boujos is not out of contention and will give it a big crack on Saturday to bridge the point's gap. Several Ladies are also competing in this division and have scored some handy points along the way. Watch out for Jessica Boujos, wife of Tim and Kathryn Scoble as they battle with the boys in these exciting Flat Track events.
With both Speedway 500cc solo bikes and a big field of Flat Trackers competing, the Peth Motorplex Gold Cup Grand Final event should be a cracking night of high energy Motorcycle Speedway action.