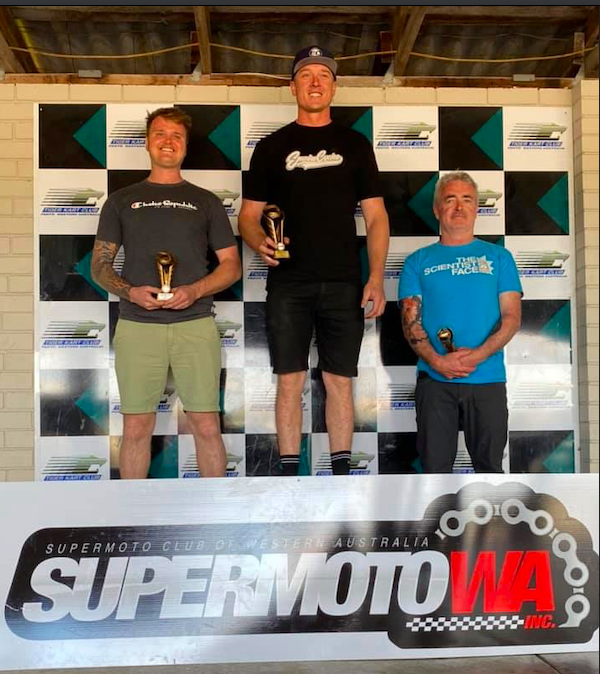 The 15th of November saw a range of our 2020 Supermoto State Champions crowned. As racing began at 10am and the spectators began to roll in, the day was set to bring some heat and we're not just talking about the weather.
Contending riders such as Jayden Martin, Hannah Stewart and Damon Gibbons and much more provided some of the best riding that many have said they'd seen in years. All classes provided the perfect setting for many battles to be had and a lot of fast laps by some of WA's best.
Although all riders contributed to a great day of racing, there can only be one winner! Take a look below at some of our class placings.
Supermoto Open
1st Damon Gibbons
2nd Rohan Carwardine
3rd Matthew Fathers


Supermoto Clubman
1st Stephen Hirst
2nd William Wasley
3rd Hannah Stewart


Supermoto Women
1st Hannah Stewart
2nd Hayley Green
3rd Kathryn Scoble


Mini Motard
1st Francesco Bietto
2nd Lee Johnson
3rd Niccolo Maggiorani


Posties
1st Steven McQueen
2nd Michael King
3rd Gary Aulsebrook


Cadets
1st Jayden Martin
2nd Calvin Moylan
3rd Harrison Hirst
Clubman State Champion Stephen Hirst stated "we've been having a great time and ride together and just have fun", later thanking his many sponsors and the club for their on going support and the ability to provide an exceptional event. Dual class contender, Hannah Stewart blitzed the field with her talent during the day of competition and went on to comment on her successful State Title Campaign "The bike was wicked all day thanks to Stewart from SGM Racing", taking the Supermoto Women's Championship for the second year in a row the young up and coming rider will be one to watch in the 2021 season. A clean sweep in all four races saw winner Damon Gibbons take home the GoMoto Store Open Division, one of the most highly anticipated titles of the competition. The riders durability and skills displayed his ability to uphold the consistent winning streak on both tarmac and dirt.
The successful weekend showcased a strong skillset from all riders that took to the track. A combination of junior and senior participants challenged many riders as the fought for the win of each race. The Supermoto Club of WA did an amazing job in providing another State Championships, Motorcycling WA would like to congratulate all riders and the club on their efforts throughout the 2020 Season.