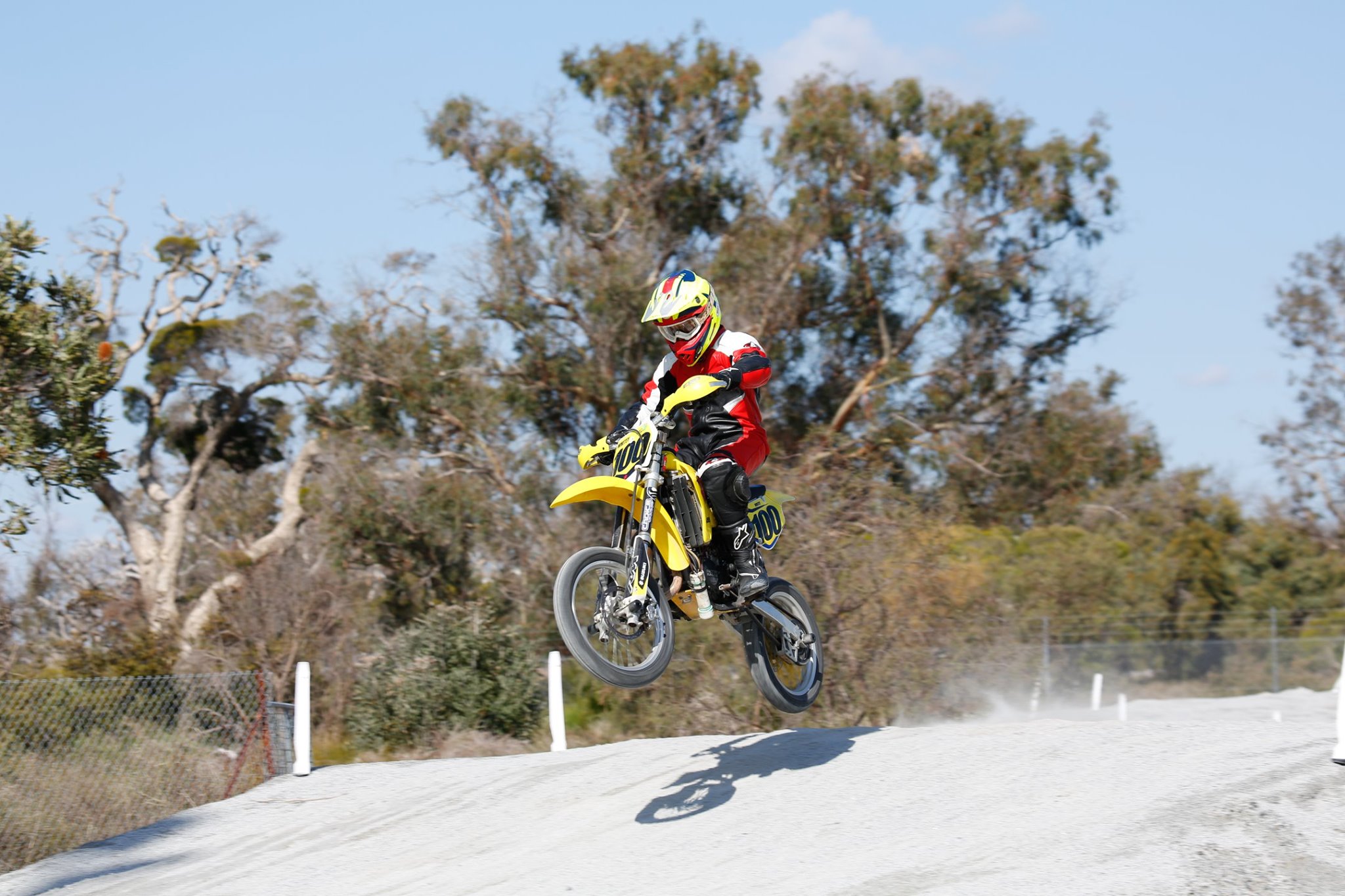 Supermoto WA's Round 5 sees the club enter the back portion of the season. Standout performances in Minimotard, the Banhams WA Junior Road Racing Cup and Supermoto Open kept spectators on their feet for the entire day of action. Starting grids were set as per championship point scores, this made for some hectic race starts as we saw regular competitors swamped on the line by sporadic entrants with greater speed.
POSTIE BIKES
The DIY handicap format kept things interesting over the course of the day. Steven McQueen would put on a show, contesting 3 races and not being passed at any point. The Steve's Motorcycles backed rider retired from the Postie division before Race 4, lending his machine to Peter Purdy and allowing himself a longer turn around between races as he dropped back to only one category. Nathan Lammers had a great outing with two second placings in race 3 and 4 before finally finding his way onto the 3rd step of the podium. Peter Purdy was plagued with transmission problems as his Honda laboured to get the power to the ground. The late substitution for McQueen's bike helped Purdy finish in the runner-up spot. Michael King displayed an equal measure of speed and aggression. Two victories, a 3rd and a 6th didn't look like it was going to be enough, however King would emerge victorious. He would also clock in with the highest average lap speed of 49.31km and the quickest lap time of 1:29.069 in Race 3. Coincidentally, he would also find himself picking his machine up on four separate occasions.
MINI MOTARD
Minimotard was the battle ground for one of the most exhilarating competition in recent history. Admittedly slightly low on numbers, the category did not fail to deliver action by the truckload. Omar Gregolin would make a fantastic jump in Race 2 and was able to hold the Aussie Moto Engineering sponsored Lee Johnson off for 4 laps, before Johnson was able to re-take P1 and hold it to the finish. One point in Gregolin's favour was the way he never looked over his shoulder for those four interminable laps. There were times where the 85cc Husky somehow seemed six feet wide however its rider by some means was able to spot the attacks of Johnson and defend without losing ground. Those four laps would be the only time Johnson would spy the rear of another bike all day and expressed praise for the Husqvarna rider
"Omar and I were able to get together and chat about some areas he could get quicker. I'm super happy with the level of competition at the top"
The results barely deviated from a David Dahl 3rd, Gregolin 2nd and Johnson 1st, however the consistent pressure of the Husqvarna on the rear wheel of Johnson was definitely a sight to behold.
SUPERMOTO OPEN
Open did not fail to impress as Travis Blanke-Cornick came into the event leading the championship thus far. Tim Boujos started a close second and secured his overall hold on the championship at this stage through a run of race victories all day aboard his Mack 1 Kawasaki and PANIK Leathers backed outfit. Cornick would challenge at various stages throughout the day with some great race starts, currently residing overall second after bringing P2 home in each race. The real story of the day came in the form of JB Racing rider Lachlan Hickey, putting in one of the most inspiring rides in lap 1 of Race 3, where an early get off saw him re-join the eight-rider field well behind the last back marker. What would follow in the next three laps was nothing short of astonishing. Hickey was able to push the Yamaha back to third, however the gap to Travis Cornick had grown too large to challenge. Indeed, the mist had descended so completely over the young rider that there was a definite point that onlookers could see Hickey adjusted his riding style to become more conservative in order to consolidate his position and finish without further incident. Hickey would finish Round 5 with a slew of 3rd place race results and would take the bottom step of the podium, with Blank-Cornick in 2nd and Tim Boujos 1st.
Photo Credit: Ozspeed photography