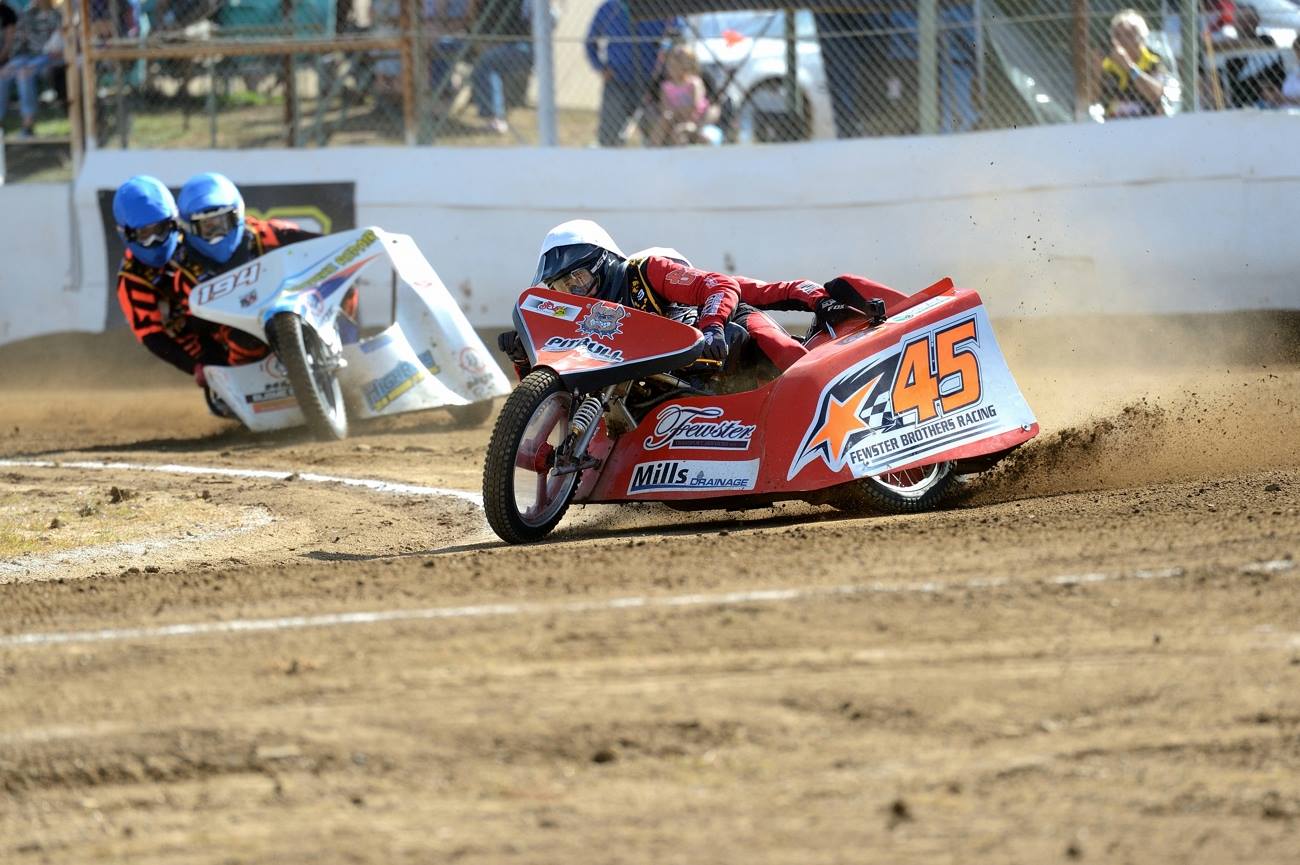 The pun in the opening headline is quite intentional because the young Fewster boys, are the absolute "future" of Sidecar racing.
In their relatively short career to date these two young men, Jack and Adam Fewster have won and are the current Australian Junior Speedway Sidecar Champions, they are the current Victorian Junior Sidecar Champions and ran third in the 2019 South Australian Junior Sidecar Championships in a championship they should have won.
These outstanding achievements are what most competitors can only dream of following a lifetime of hard work and commitment during their entire career.
And guess what, they aren't done yet! The Fewster family are currently reviewing final preparations for a trip to Pioneer Park in Ayr, Queensland and had a brand new bike built by Jeff Bishop to provide Jack and Adam the best chance of defending their Australian title over the Easter weekend.
Their outstanding success in Speedway Sidecar racing is even more remarkable given the fact that they had not even sat on or had any real interest in sidecars up until about two years ago. Both boys started riding dirt bikes from the age of about 4 years on quad bikes then pee-wee 50's changing bikes with each new growth spurt.
By chance Jeff Bishop had a junior sidecar in his shed and was looking for a couple of kids to have a ride. Both Jack and Adam showed some interest and with some coaching from Jeff, they had their first ride on a sidecar at a practice session in September 2016. From then on they were absolutely hooked. Graham and Kelly bought a sidecar for the boys and they competed in their first competitive race the very next month at the Presidents Cup at Pinjar Park.
The other remarkable aspect to their journey into speedway sidecar racing is there is no family background in this sport. Their father Graham has previously raced dirt go-karts, production sedans and 320 sprintcars which has all been put to one side to allow him to concentrate on Jack and Adams career.
At present, Jack is 14 and Adam 11 years old. The dilemma will come when Jack (who is on handlebar duties) turns 16 and must then move up to senior Sidecars. Adam, Jacks passenger, will be 13 at that time and presumably will move up forward and take over the riding duties and recruit another junior to swing for him.
Similarly Jack will continue to ride a new senior outfit and will need to recruit a new senior swinger. The rules governing speedway state that when a rider turns 16 they must compete at senior level. This rule also applies to solo riders who must make the transition from 250cc to 500cc solos at the age of 16 years.
Perhaps I'm getting a little ahead of myself because I believe there are a few more exciting years of watching these two very talented young men racing and winning State and National Junior Sidecar Championships. Having said this, succession plans are already in place as Clayton Mills (Mills Drainage) one of the Fewsters current major sponsors, has pledged to provide a full on competitive new senior sidecar outfit for Jack to ride when he makes the transition to seniors.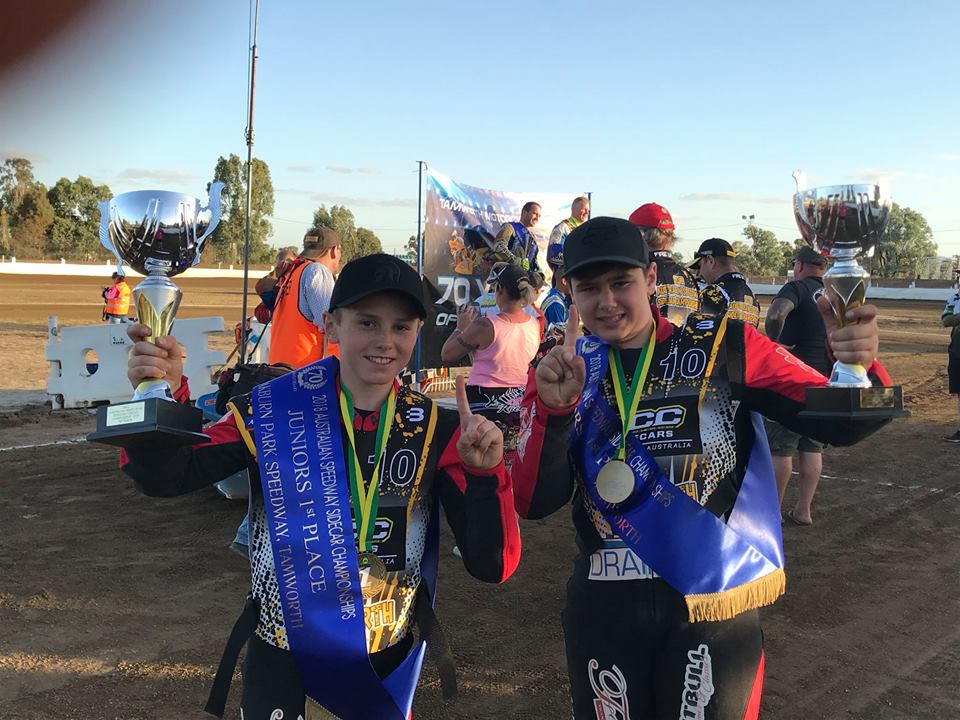 One could think I'm overly excited and enthusiastic in my commentary on these two young guys. Well, I don't believe so. In my view they're the real deal. But don't take my word for it. Read what other prominent speedway people have to say about the Fewster lads;
Marshall McDiarmid, President, Speedway Motor Cycle Club, WA: "These boys show maturity beyond their years. They've risen through the ranks quickly and are Australia number 1 for good reason".
Clayton Mills, Current senior sidecar competitor:
"These boys are good, they put in 100% effort and are prepared to listen and learn. The entire family are lovely people"
Grant Woodhams, Pinjar Park P. A. Announcer/Commentator:
"The fact they have travelled interstate and won National and State titles is a testament to their ability to quickly adjust to new tracks and competitors. The Fewsters are a great asset to sidecar racing, they present themselves superbly and are a credit to the Fewster family"
Jeff Bishop, Former State Sidecar Champion and Major Fewster sponsor.
"They are super talented boys. Their achievements are from hard work. They listen and learn and are the most coachable kids I have seen"
So there you have it. Believe me, sidecar racing at any level is not easy. It's not a sport that immediately attracts young kids and certainly not a sport that's easy to get into. For a start you need good supportive and encouraging parents. The Fewster boys, Jack and Adam, have this in spades. Kelly and Graham Fewster are two of the nicest people you could meet. It's certainly not easy or cheap travelling this big country of ours to allow their children to chase their dreams, but the Fewsters like many parents make these sacrifices without complaint. In fact when talking to Kelly and Graham, they don't see it as a sacrifice, they see it as their family having fun together.
When you next see the Fewster boys out on the track, in fact any junior speedway competitor, cheer loudly and give them every support you can, because they are absolutely the Future of Australian Speedway.
Don't forget this Saturday is Speedway Night at the new, BIG, Pinjar Park track with all the solo and sidecar action for the Summer Slam Round 3, more details: https://www.facebook.com/events/979216528945075/
Words: Graeme Sinden
Photography: Woza's photography / Unknown Source