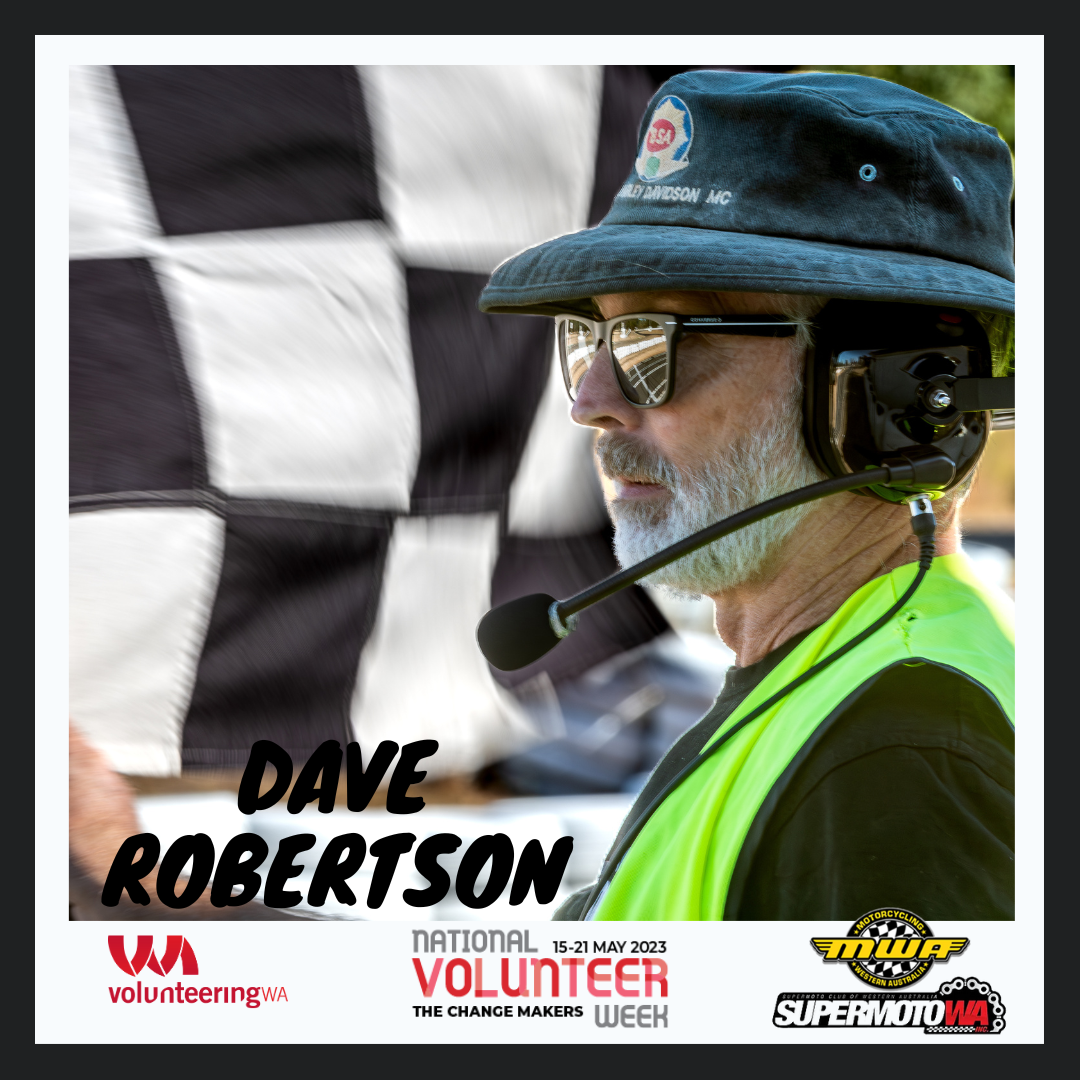 Volunteer Spotlight: Dave Robertson
During National Volunteer Week (15-21 May 2023), let's celebrate Dave Robertson, a true motorcycling enthusiast and dedicated volunteer in WA!
Dave is a stalwart of the motorcycling community, supporting clubs across many disciplines and making valuable contributions, over the years. Currently serving as a committed general committee member of Supermoto WA and actively involved with various other clubs and disciplines, Dave's commitment to the sport is unwavering.
Despite recovering from a road motorcycling accident, Dave continues to selflessly volunteer his time for the club. Whether it's handling committee duties, assisting with flagging, or scrutineering, his passion for motorcycling shines through.
We should also give recognition to Dave's incredible family, who wholeheartedly embrace his passion for motorcycling. His wife Deb also deserves special appreciation for her outstanding support. Currently serving as a Clerk of Course for Supermoto WA, but she has generously shared her expertise and knowledge across various disciplines, throughout the years.
Join us in applauding Dave and his family for all their dedication and the positive impact they have made in the WA motorcycling community.
If you share Dave's or Deb's passion or want to make a difference, consider becoming a volunteer. Contact our office at 9371 5333 or email
mail@motorcyclingwa.org.au
to explore opportunities. Visit our website at
www.motorcyclingwa.org.au
and stay updated on upcoming events and news.
Let's give a big shout-out to Dave and all the incredible volunteers who make our motorcycling community thrive!
A huge thanks to Laughing Bulldog Images for beautifully capturing Dave in the best light possible and generously allowing us to use the photo. Make sure to visit their page and explore their incredible gallery. You won't be disappointed!
Laughing Bulldog Images