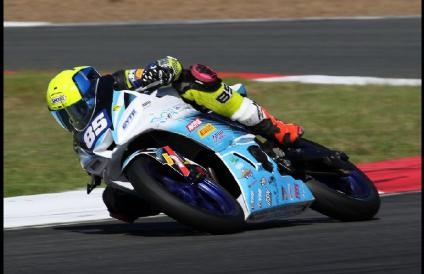 We took a quick moment after Round 2 of the ASBK Championship to catch up with Jayden Martin, one of our young WA riders currently travelling the East Coast tracks with Dad (Grant). Here's what he had to say;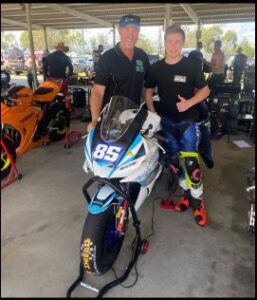 You have just finished up Rnd 2 of ASBK, how has the experience been so far?
The ASBK experience has been awesome, definitely learning a lot and enjoying the experience. Riding with Australia's best riders is helping me to improve my race craft.
I believe this is your first year competing with Seniors at a National level, what have been some of your biggest challenges?
Yes it is my first year racing at the production class in both the Super sport 300 class and the R3 cup at a National level. Living away from home for 5 weeks travelling to a lot of different tracks has been tough as we have done a lot of driving but have seen a lot of Australia in the process.
What are the tracks and atmosphere like compared to WA?
The tracks in the east are a lot different to our tracks here as there is a lot of very high speed turns which is something we don't have here in Perth. It is definitely different but I am learning to adapt my riding style to improve every session out.
What is your biggest goal for the 2022 ASBK season?
My goals for ASBK this year are to learn the tracks and getting to know my fellow competitors. I will try and ride as many tracks as I can so next year I am a little more prepared.
What's been your favourite moment of the whole experience so far?
My favourite moment so far is finally having the bike sorted after the 2 rounds, we had some electronic technical issues which dad sorted out for the last race in Queensland. I was able to stay with the front pack and finish 4 seconds of the winner. Taking out P9 for ASBK round which got me to my goal of a top ten finish in a ASBK round. "
"I feel so lucky to be given this opportunity and looking forward to the rest of the year."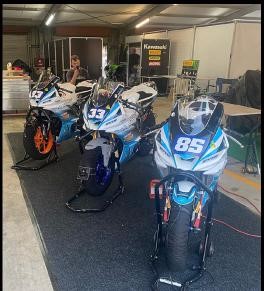 Who would you like to thank?
Firstly my family who have made the commitment to me being able to ride in the series. As well as my sponsors and supporters who without their help none of this would be possible. Anthony and the team from Moto City Wollongong who I am lucky enough to ride for. Aussie Moto Engineering, AKA Mum and Dad, My Coach Sam Clarke from RS 36 Coaching who has helped me on and off the bike, Track Action WA who really helped out financially this year, Gomoto Store, Jeckyl and Hyde leathers, Ptt Lubricants, Pirelli, JMS Suspension, Diablo Moto Paint, Innesphotographix, Five Gloves, and all of my other sponsors for the ongoing support