Ride, Race, Enjoy.

OPPORTUNITY OF A LIFETIME TO CONTEST THE WMX GP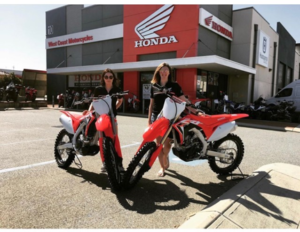 Well known WA mx riders Megan and Hannah Bagnall are all set for the experience of a lifetime participating the Women's MX GP in Europe.
All plans have been put in place for the girls to compete in the first four rounds as follows : 1 March 2020 Great Britain (Matterley Basin); 8 March 2020 Netherlands (Valkenswaard); 19 April 2020 Spain (intu Xanadú, in Arroyomolinos­); 17 May 2020 Italy (Maggiora). Unfortunately Megan sustained a serious injury just prior to depature so she will miss the first two, she is working hard on her recovery.
The girls and their family made the decision to do something fun this year for their racing and were able to have this opportunity to travel and contest the rounds, so they have organised everything and are ready to go. The girls are really looking forward to the round at Matterly Basin to be able to have extended family come and watch, it was a place they used to go to when they were growing up.
The Bagnall sisters went on to say 'this is like a dream come true for us, getting an opportunity to race alongside the fastest women in the world and compete in the WMX GP, to ride on the tracks we have watched on TV for years and to also watch on as the best male riders in the world take on the same tracks and watch how fast they tackle the track and to experience the event and the atmosphere'. Hannah said she is really looking forward to riding at Maggoria because of the giant hills!
Being such a huge commitment from the family for these events. Once recovered from her injury, Megan will be travelling back and forth to be able to maintain her commitments in WA such as university study and work, whereas Hannah will stay on between round 3 and 4 and enjoy some time travelling. Dad Paul, has done all the organising. The container left late last year, packed with their competition bikes, spare parts, tools and all the gear they could fit in for this massive effort.
Megan went on to say that she has been training extra hard in preparation for the event and accredits her work with trainer Michel Drean (Total Mobile Fitness) with getting her into top shape for the forth coming season. Megan spoke about Michel's knowledge of the sport, competing at the highest level and how his depth of knowledge is helping her prepare.
Of course opportunities like this don't come about without great support behind the scenes. Both girls would like to thank Justin and the team at Westcoast Motorcycles, Honda, Fly racing, Michel Drean, Bridgestone tyres, Sidi boots, Westeffex and Dragon.
Hannah and Megan will also meet up with fellow WA racer Tahlia 'TJ' O Hare who is also contesting the WMX GP series – making that three WA representatives on the world stage!
Make sure you follow our local girls giving their all on the world stage at the WMX GP and cheer them on from home. I'm sure they will be posting regular updates on socials and we will certainly be posting info as it comes in. Go Girls, keep on living the dream!
---
HANNAH STEWARD ONE OF THE RISING STARS WITHIN OUR SPORT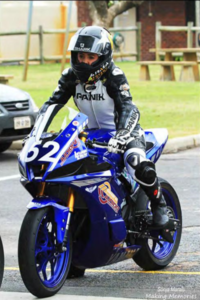 Hannah jumped on her first bike in September 2017 and made the decision to attend a club run at well-known W.A track, WJMC. This was her first time ever competing in motocross event and riding in sand. After competing in a series of club rounds, she was hooked.
The year of 2018 saw Hannah participate in her first MX State Championships entering the girls' class and placing 2nd overall as well as competing with the boys and finishing within the top 15 riders . Hannah also travelled to Wool Ridge and placed 1st in the Supercross rounds on her 250.
In 2019, Hannah not only continued to enter MX State Championship races but also crossed over to the Supermoto discipline and with her exemptions to compete within the senior class, she entered the clubman round and placed 2nd overall. In May of 2019, Hannah made the decision to not limit herself to only 2 disciplines, being given the opportunity to join the Banhams Junior RR Team where once again she showed her ability to adapt by placing 4th overall in the Junior Championship.
Hannah maintains her fitness off track through boxing, cycling and running. When not competing in motorcycle sports and maintaining her fitness, Hannah works full time as a TA in the West Coast Motorcycle workshop whilst being an ambassador for Penrite Oil.
In 2020 season Hannah's main focus will be the Road Racing Championship on the Yamaha R3 with the Junior Development team however, she plans to still continue to enter Motocross State Rounds in the Senior Women's class. Hannah has shown herself to be a dedicated competitor that gives 110% and continues to build her skills whilst chasing her dream of being number one.