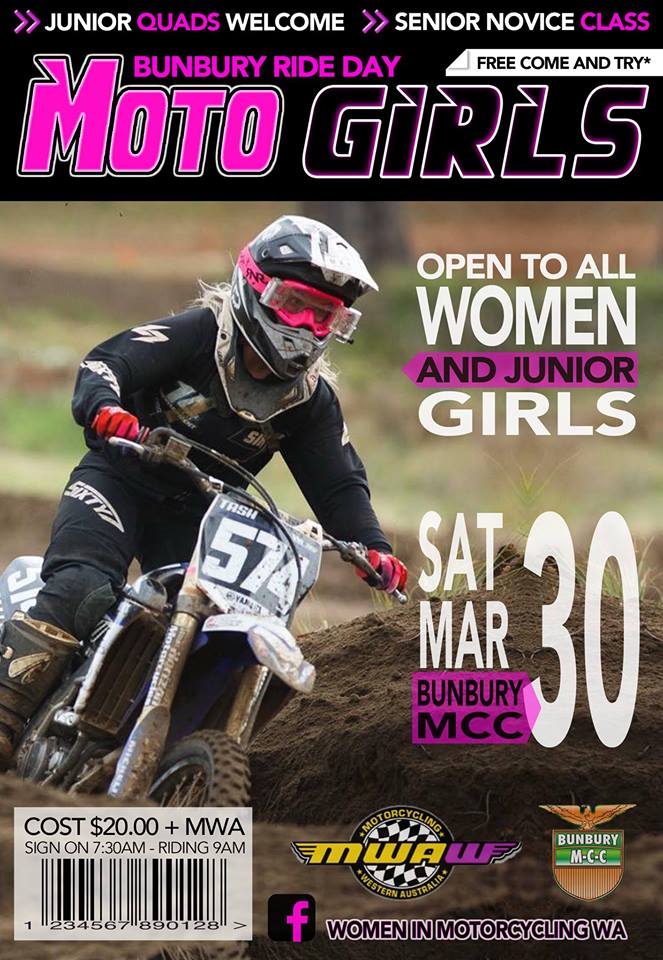 MWAW Committee are pleased to bring you the first Moto Girls Ride Day for 2019 – being held at Bunbury Motorcycle Club (Shrubland Park).

This event is open to junior girls and senior women of all skill levels. It's even open to junior quads!

Our Girls Ride Days are all about girls coming together to ride in a fun, safe and encouraging environment. If you have never ridden an MX track before, then come along and try our novice class and meet other Moto Girls! (Please note: this is not a race day)

Nitty Gritty:
Bunbury Motorcycle Club (Shrubland Park) – South Western Highway, Davenport
Date: Saturday, 30 March 2019
Sign-on: 7:30 – 8:30 AM
Riding: 9:00 AM – 1:30 PM
Cost: $20.00 plus MWA One Day Rec Licence if required ($30.00)
First timers can get a FREE MWA come and try one day licence*.
(*Must have never held an MWA licence to be eligible)
Riding will be in rotating groups – not a race day
Bringing a flaggie would be greatly appreciated.

You do not need to register for this event. Just bring cash and sign on at 8:00 AM.

You must have appropriate safety gear; full face helmet, boots, gloves, goggles, long pants and a long sleeve shirt.

The canteen will be closed, so please bring plenty of water and snacks.

Follow Bunbury Motocross Club on Facebook: Bunbury Motorcycle Club
https://www.facebook.com/events/581718288906447/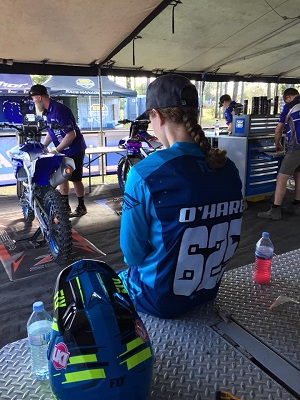 Rider Profile: Tahlia O'Hare
What event/series are you currently preparing for or currently competing in? Wmxgp
What's the best thing about racing overseas? The tracks and riders are on a different level, there's a lot more competetion which is so cool to see.
What have you found to be the hardest thing when adapting to your new country? Not being able to talk in their language
What do you miss most about home? My friends and Milo
How are you preparing for your upcoming event? I am training on the bike with my team, they take me to similar tracks like we will be racing which is cool. I train in the gym and cycling everyday to make sure I am physically ready.
What's been a highlight for you in your racing career? My highlight was winning 3 junior girls nationals championships.
What is your single most motivating force? Bettering myself every time I get on the bike or in the gym.
Tell us a bit more about what you hope to achieve and what you have already achieved? I hope to achieve a top 10 this season in WMX which will be tough but I think it can be possible. I have achieved 3 national championships, 3rd in NZ women's championship, women's state championship last season and a 4th in women's Australian championship last year.
What's your strangest overseas experience so far? Honestly it hasn't been very different to being home so I don't really have anything strange happen yet.
Favourite thing to do besides motorcycling? I love to MTB and have recently got into cycling thanks to Josh Adams.
First Name Tahlia
Last Name O'Hare
Instagram Instagram
Watch all the MXGP Action: MXGP-TV.com or https://www.facebook.com/mxgp/