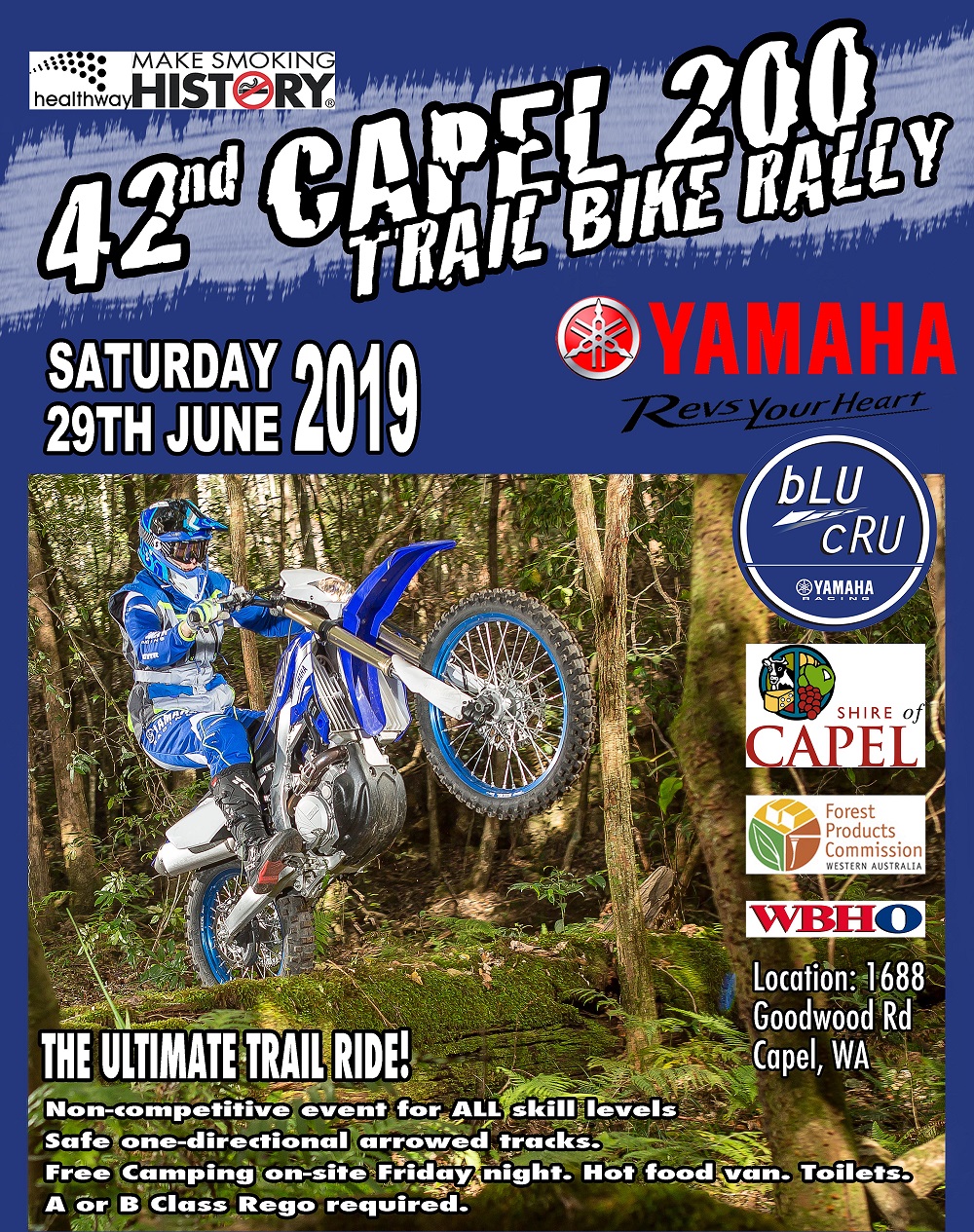 The annual Capel 200 Trail Bike Rally will be held on Saturday 29th June 2019, at the Ironstone Club's base near Capel.
This will be the 42nd anniversary of the iconic event, which is supported by Yamaha and their dealers Cullys Yamaha, Five Star Yamaha, South West Yamaha plus Healthway, Shire of Capel, Forest Products Commission and WBHO Infrastructure.
The rally is a non-competitive trail riding event with a 70km pre-marked course through the state forest and pine plantations in the Capel – Jarrahwood area of South West WA. Using a combination of 4WD tracks, single track trails and flowing pine firebreaks the event is suitable for riders of all abilities, with challenging 'enduro' sections and 'special tests' for more experienced riders.
The event is a long-standing event on the local calendar and couldn't happen without the support of local community organisations, with part proceeds from the event donated to a local community organisation. Sanctioned by the Department of Parks & Wildlife and local Shires, the Club puts a lot of effort in to designing a safe, sustainable course.
The rally starts and finishes at the Ironstone property just west of Ironstone Falls on the Capel-Donnybrook Road, with free overnight camping and on-site catering. Event organiser Rob Harvey says "It's a great opportunity for riders to enjoy the beautiful Capel-Jarrahwood area at a safe and relaxed non-competitive event, and we really enjoy being able to support both the riders and the local Capel community alike."
Riders can enter on line at https://www.registernow.com.au/secure/Register.aspx?E=34791
Or contact Rob Harvey on 0419 950 731 for more details.