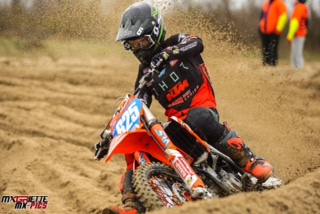 Oceania region is well represented at the opening round of the FIM Women's Motocross World Championship at Valkenswaard, Netherlands this coming weekend. Making the trek to the other side of the world, Meghan Rutledge (Aus) Tahlia 'TJ' OHare (Aus) and Courtney Duncan (NZ) are putting the final touches to their race preparation in what is set to be an exciting season for the women. 
Over 40 of the world's most talented female motocross riders have entered the event for the opening round of the world championship and all will be fighting for a place on the podium.
New Zealand's Courtney Duncan, riding for her new team Bike it DRT Kawasaki will be looking to go that final step which has eluded her for the past couple of years and to take out the women's World championship. Courtney has an amazing race resume with many podiums at the highest level, she is no stranger to the intense competition and will be out there giving it her all.
Motorcycling WA Women's committee spoke to TJ who has recently relocated to Europe in February this year to follow her dreams and further her racing career. Based in Belgium with the KTM DIGA racing team TJ has been putting in solid effort training on and off the bike with the team and also having several opportunities to ride in Portugal, France, Germany and Netherlands. TJ said that she is "enjoying the whole experience and is very thankful to the team for helping me bring out the best in my riding". Keep an eye out for the talented young gun from Australia who will be on the big stage for the first time in her career.
Australia's current Women's champion MX rider Meghan Rutledge has also travelled to the Netherlands to compete in round 1 of the Women's World MX Championships. Meghan will be the surprise package for the event having not competed on the world stage for a couple of years, she is currently fitter, stronger and riding with a level of skill and determination that will see her battling with the top riders for a place on the podium.
The stage is set for some explosive action in the women's mx scene. It has to be one of the most exciting women's sports in the world. Make sure you stay tuned and support our girls over on the world stage giving their all and doing Australia and New Zealand proud.